Now most divorced blokes have a habit of going on go about how insane their ex-wives are, whining that most of them are barking mad which suggests that the only women attracted to them in the first place are those with serious mental health issues. Fortunately Gloria Bell (Julianne Moore) doesn't fit that stereotype. A perfectly decent women with a responsible job but desperately lonely since her children have left home leaving her frequenting over 40's discos looking for love. It's all a little sad watching a bunch of middle aged men and women dressed as though they're going to a Rotary lunch rather than a night out clubbing yet at the same time the tracks from the 70's  that they dance reflects  exactly how clubbers dressed in that era. So it's a grim reminder that those of us old enough to remember the second summer of love and raving in fields will frankly look even more ludicrous in middle age wearing bucket hats and shouting 'Aciiiiiid' whereas we'd look far more at home with a cup of Ty-Phoo and a chocolate Hob-nob.
Yet the music here, though it's of a bygone era, is great and the film never sneers at its characters. Gloria's quest takes her to various social groups that includes laughter therapy classes but more often than not to dance classes and it's here that she meets divorcee Arnold played by John Turturro. Now Turturro is a great actor but as a divorcee looking for love there's something a little unnerving about his unwavering stare that would give you second thoughts about asking him to babysit. As it is he's hurting just as much as every other person in the club and him and Bell tentatively start dating but she, who is so keen for a relationship, finds that he's still there at the beck and call of his ex-wife and two grown up children who always ring about the most trivial of matters and he ends up running to his ex-wife's every whim.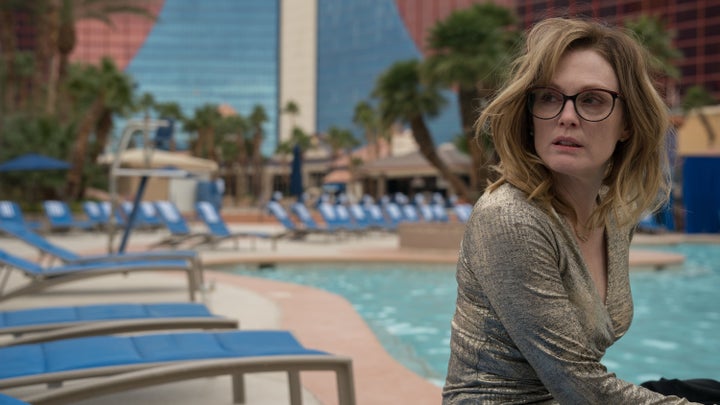 Julianne Moore is as good as you would expect and there's a great scene where she takes him to her son's birthday which her own ex-husband and new partner also attend. It's a brilliant scene playing on the fragile male ego as Arnold grows increasingly withdrawn seething with unjustified jealousy that Gloria is paying her ex-husband too much attention. It's the on-off relationship that the film follows with Arnold never really able to commit to Gloria and often just disappearing leaving her at the most inconvenient of times. Strong, independent and outwardly happy it's a surprise that the film, which uses the lyrics on the soundtrack to comment on the scenes, doesn't feature The Smiths, 'How Soon is Now?' with Morrissey's warbling lyric. 'I am human and I need to be loved, just like anybody else does'.
This is a slight story but it's an all too familiar one playing on the circle of life that all relationships are ultimately doomed to failure and unhappiness whether through death or incompatibility but as downbeat as this all sounds Gloria Bell is ultimately empowering and there's a moment towards the end that she realizes that actually, despite everything, it's all going to be OK and frankly that's all anyone can want.  Gloria Bell is a low key independent film and it's absolutely Julianne Moore's show as she sings alongs to the soundtrack of her life.
Here's the Gloria Bell trailer…….