We've covered a load of classic old films in our Home Entertainment section but whether its because  it's silent, in Black & white or it's a 'foreign' film (here it's German) The Golem is a little seen yet influential horror film released in 1920 and could be seen as the first franchise film having had a few previous films made featuring the creature. A landmark film The Golem was actor Paul Wegener's third attempt at adapting the character for the big screen playing the creature with a hairdo that looked like a prototype for a supporting Wallace & Gromit character.
In the Jewish ghetto of 16th century Prague a rabbi crates a forbidding clay Golem (Wegener) to protect his people from the tyrannical (and frankly anti-semitic) Emperor Luhois. The Golem is brought to life by a demon spirit and an amulet placed in the centre of the creature's chest the Golem is a seemingly indestructible juggernaut performing acts of heroism. It's only when the Rabbi's assistant attempts to control the Golem for selfish gain that it becomes a force of destruction rampaging through the ghetto leaving fire and death in it's wake.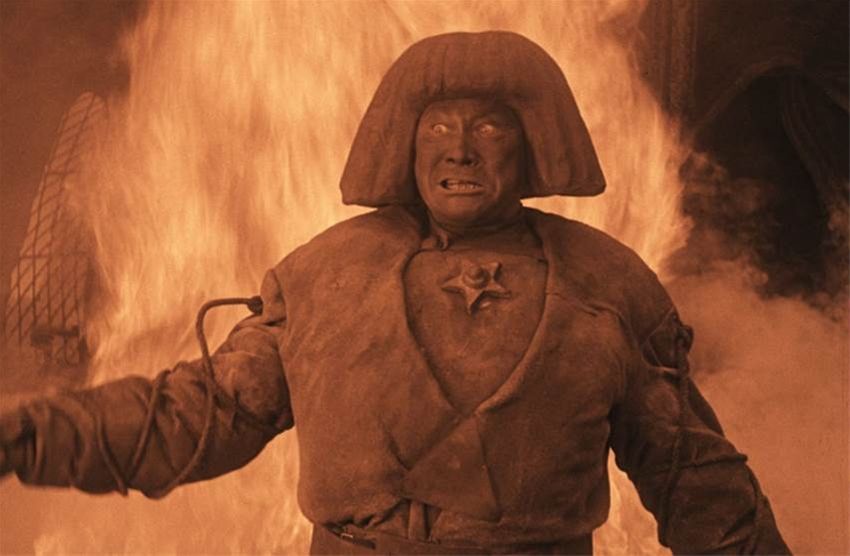 A German expressionist film it was something of a landmark with its stylized performances, distorted sets and state of the art effects often done in camera.  Inspired by the stories from the Jewish ghettos the Golem was an enduring mythical figure but there was a certain perhaps bitter irony that a Jewish legend would become a German film made by Gentiles. Perhaps just as surprising was that Wegener would go on to work for the Nazi propaganda machine though he was covertly funding small resistance groups against the party and even went as far to be writing anti Nazi graffiti undercover of night.
Whatever the truth The Golem is an important film inspiring many Hollywood horror films including Frankenstein well worth owning for serious cineastes an its 4K restoration has several notable features with the option to watch it with three different scores as well as in different tints (see photos). There's also a very good video essay and a commentary plus a number of other recent bonus features as well as a collectors booklet
Here's the trailer……
THE GOLEM IS RELEASED ON BLU RAY ON 18TH NOVEMBER 2019