Filmed during lockdown 'Host' is a horror film using the video conferencing app Zoom, a business that has enabled many to work from home but has equally broadcast unwitting users  appreciating 'specialist interest' websites. The Host here is Haley who along with five friends has organized an online séance unwittingly taunting fate yet misguidedly telling her friends, 'Don't worry. It'll be fine'. When a character says something like that we can only assume that they were they were also the same person who tells us that our mini cab is just around the corner. It rates up there with other great lies such as government quotes for building projects and of course that old favourite, ' …..but we can still be friends'.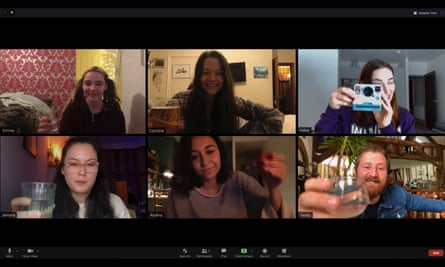 'Don't worry. It'll be fine' she keeps telling them. Of course it won't be and when summoner of the spirits, Seylan joins them with her reassuring Scottish brogue she guides them through the calling of long gone family over the internet. So whilst those claiming to hear the spirits calling them usually as some part of ludicrous scam might well expect a Nigerian Prince in exile offering endless wealth in exchange for your bank details what the 5 women get is almost as bad.
Much to the annoyance of mother hen Haley, the friends don't take it seriously, and she scolds them with the command that you, 'don't disrespect the spirits'  something that our Editor regularly does when he's booted out of The Nags Head every Friday night. But what they have summoned is a demon with devilry on his mind that proceeds to terrify the girls with a number of decent jump scares.
Directed by and co-written by Rob Savage this is something of a throwback to the found footage phenomena ushered in by The Blair Witch Project rejuvenated by Paranormal Activity and given a modern day update with 'Unfriended' and 'Searching'. And it's our familiarity with Zoom that adds a creepy edge to Host which doesn't hang around and ploughs straight into the scares and chills. Running for barely an hour it is an ideal length for the idea.  Host is a well executed enjoyably jittery hour best watched on your desktop in a dimly lit house for a truly immersive effect but probably best not watched alone in what is one of the most effective horror films of the year
Here's the Host trailer……