Thoughtfully several of the AnyGoodFilms writers have used taken How to Train your Dragon  as the title for a manual they are compiling for anyone intending to date our Deputy Editor' s ex-wife but for the rest of us this is the third and final part of the animated dragon trilogy based on the books by Cressida Cowell.
Hiccup (Jay Baruchel) & Astrid (America Ferrara) are now a loved up couple with Jay reticent to pop the question which his father is so eager for him to ask. The pair along with their friends and their respective dragons are still flitting around and it's on a brilliantly atmospheric opening scene where they rescue a load of dragons from being held captive. They're spirited away to the fabled Hidden World where they can live in safety without fear of being slayed by the outside world. So when the captors of the now free dragons call in top dog dragon slayer Grimmel (F Murray Abraham) that that might now all change. As a slayer of venomous old harpy's we'd be only too pleased to introduce him to our Deputy Editors ex-wife but here he undertakes the job so as to kill the last of the fearsome Night Fury dragon of which Jay's dragon, Toothless is one and to do so he employs the last female Night Fury dragon to coax them along with Jay and his clan to unwittingly reveal just where the hidden world and its dragons is.
Director Dean DeBlois returns again having done such a great job with the first two films and the quality of some of the scenes is as good if not better than anything Pixar has conjured up and there are some specially good aerial moments with the dragons swooping and diving which makes the film ideally suited to a 3D experience which now seems to have fallen out of favour until the next Avatar film pops up. Visually rich with a plethora of dragons where each child will have their favourite and a clan of friends that kids again will be able to identify with notably the squabbling siblings with Kristen Wiig doing a great job especially when she adopts vacant valley girl speak when trying to wind up Grimmel in order to effect an escape.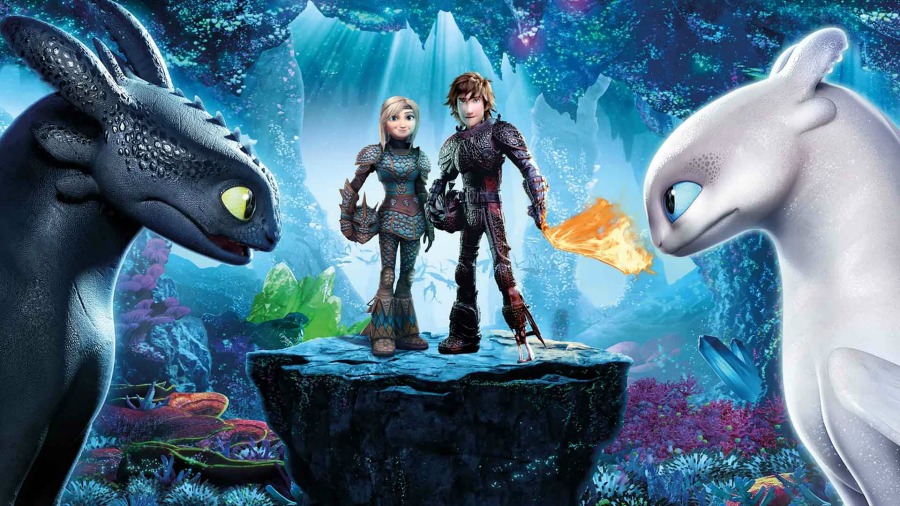 At the centre of How to Train your Dragon the Hidden World is a twin love story with Hiccup & Astrid mirrored by Toothless and the newly found Light Fury and his attempts to woo her with his bizarre preening and showing off much to the bemusement of his intended love interest and is missing only a David Attenborough style narration. As this is the intended final film it builds towards the payoff and strives for that tear tugging moment which it doesn't quite pull off as successfully as Pixar managed with Toy Story 3 (or indeed several of their other films too). So whilst this is not as good as the previous two films, for half term kids will enjoy what has been a highly enjoyable trilogy and this is a decent send off.
Follow the AnyGoodFilms instagram and see photos from the premiere here
Here's the trailer for How to Train your Dragon the Hidden World……