The latest from Blumhouse Productions and their house of horror hits is Ma, not an acronym but slang for 'mother' as played here by Octavia Spencer. However as it is here it could easily stand for Murderous AfroAmerican because here Ma is Sue Ann a lonely woman who works as a veterinary assistant constantly having to be asked to focus on her work by her boss, Dr Brooks (the fab Allison Janney) .
At the same time moving back into the small town after a divorce is Erica (Juliette Lewis) with her daughter Maggie (Diana Silvers). It's Erica's hometown but she ends up working in a casino whilst Maggie starts a new school and makes friends pretty quickly with Haley (McKaley Miller) who invited her along with a few friends for a night out. Now US laws being what they are means they can't buy booze legally and whilst they outside the liquer store they try and persuade people going in to buy on their behalf they finally get lucky with Sue Ann. In fact not only does she buy them booze she insists on them using the basement of her house for their night time parties. That they first spot her taking a three legged dog for a walk doesn't set off any alarm bells either kind of points at them not being great judges of character……or that she also has a two legged dog called Marlboro that she takes out for a drag ('Hang on, you're making up that last bit!' – Ed).  So all goes well enough with Ma herself joining in the party revelry but the key to all of this is the flashbacks glimpsed throughout of Sue Ann as a student and is the key to what she will unleash.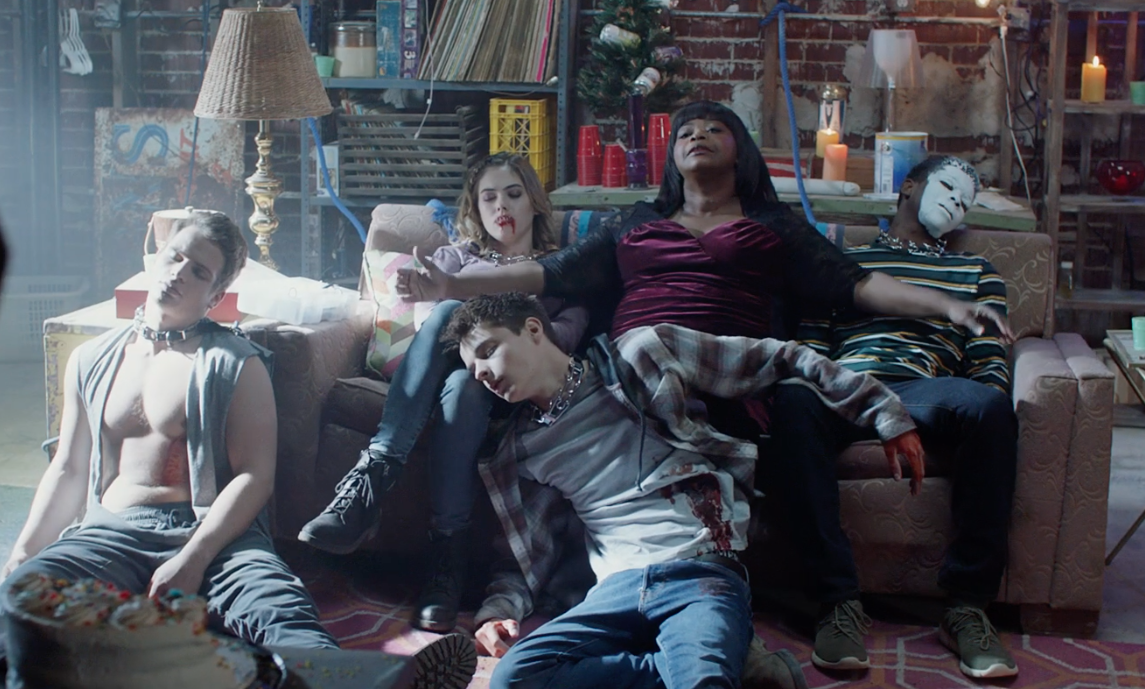 Octavia Spencer is a great actress having won an Oscar for The Help and has turned in great support in The Shape of Water also and here Ma is funny but unhinged, nice but needy, mellow and ultimately murderous and its good to see a largely female cast with Juliette Lewis who, like Julia Roberts, has moved into the Mom roles but is still a reassuring screen presence. And mention must go to Brit actor Dominic Burgess in a minor role as the camp colleague of Lewis's at the casino and which is nicely played and we would like to have seen more of him.
Tate Taylor who directed Spencer to Oscar glory in The Help has a lot of fun with the film set up as Ma allows them to use her basement on the proviso that they don't go upstairs into the house so you know the film won't be able to resist that moment when they do go exploring with Ma returning to the house as they do so. It's those standard horror tropes that Scotty Landes script adheres to and though this is more thriller than horror and is unable to avoid those 'saved in the nick of time' moments. So it's for those reasons that Ma is one of Blumhouse's lesser but still fun horror films.
Here's the Ma trailer…..