Ritchie came up with the idea for the film The Gentlemen almost a decade ago. He explains the film's origins as a work entitled 'Toff Guys' – a reference to the British slang for someone from an aristocratic background, and who exudes an air of superiority – and what drew him to its ideas and themes. "It all spoke to my interest in exploring the meeting of disparate polarities in the English and American class systems. The characters have reached an age where they are magnetically drawn to the finer things in life and have become gentrified in their rather ungentrified business. They are, at their core, hard-boiled and have worked their way up the urban ladder. Now, they're caught between two worlds, one of which is aspirational. And the things they enjoy are now out of sync with the business they're in." The title THE GENTLEMEN points to their aspirations, but as Ritchie admits, "There aren't a lot of gentlemen in this equation." so making Guy Ritchie's Gentlemen gentlemen was no easy task.
Assembling an all-star cast was, of course, a critical part of his process – and left a big, if belated, impression on Ritchie. "After finishing work on a film, you tend to move on to the next one, but when I watched the trailer for THE GENTLEMEN, I was reminded how impressive our cast is, and that it was a happy accident how these chaps all came together," he remembers.  A key piece to the success of Guy Ritchie's Gentlemen ensemble is how he cast many of the actors in roles that notably contrast with the types of characters they usually play. "There's no one in this group of A-listers you look at and think, 'Of course they're playing XX (character),'" says producer Bill Block. "It adds to the overall freshness and unexpected twists of the film. Guy's characters reflect their environment, and in a crime-based world one must be seamlessly quick-witted, scrappy and resilient.''
The central protagonist Guy Ritchie's Gentlemen is Mickey, whose attraction to his increasingly upper-crust way of life leads him to seek an exit from his chosen profession as a marijuana kingpin. The role was originally conceived for a British actor, but the filmmakers eventually decided that making the character American created exciting and unexpected directions for Mickey. "It makes this a unique British gangster film about an American living in London trying to sell his business to another American, Matthew, played by Jeremy Strong," says producer Ivan Atkinson.
Upon reading the script for Guy Ritchie's Gentlemen, Matthew McConaughey came aboard and immediately had some ideas for the character. "Mickey is an American selling England to the English," the Academy Award winning actor summarizes. "As we know, sometimes it takes someone's romanticized point of view to show value to the things we have around us, and Mickey does just that. He moved to London twenty years earlier, is Oxford educated, and has infiltrated the upper echelons of the aristocracy – the toffs. He started developing marijuana farms with the idea that there are thousands of estates in the UK, and Mickey would rent their properties for a million pounds a year and build 'skunk' farms underneath them. Mickey's toff partners didn't have to do anything; he just needed their land and they wouldn't even know what was happening. Mickey's business grew to become an empire." "Yes, sometimes the nuance of British culture can be lost on the British," Atkinson claims. "So, when an American comes into this world with a fresh eye, that's a big advantage."
But Mickey's success eventually leads him to consider an even better way of life: retirement. "He's ready to sell his holdings, for $400 million," McConaughey continues. "He wants to get out of the game, for many reasons, but mainly because he's earned the right to get out of it. Mickey is ready to have kids with his wife and take long walks in the country. He's asking a fair price for his business, but there's no easy way out for him." The marijuana industry is a world that fascinates Ritchie. "It's arguably the new gold rush," he says. "The product is recognized as being relatively innocuous and not too offensive."
As he makes his exit plans, Mickey relies heavily on the savvy and street smarts of his trusted consigliere, Ray, portrayed by Charlie Hunnam. "Ray is sort of like [Batman's butler] Alfred to Matthew's Batman – if Alfred was a twitching, OCD occasionally psychotic employee," says the actor, who previously collaborated with Ritchie on the fantasy-adventure King Arthur: Legend of the Sword. "Ray is not your typical gangster; he's very detail oriented and committed to Mickey's success and to the growth of their empire. The idea of them letting this thing go, that they've spent a lifetime growing, is quite difficult for Ray. But he respects the hierarchy – the boss is the boss." Hunnam elaborates on some of Ray's unusual qualities: "Guy and I wanted Ray to feel slightly idiosyncratic – that he had some kind of disorder, maybe OCD, that was hanging out there on the fringes. He has a very significant thing about organization and order.
There is also the counterpart to McConaughey's Mickey and both Ritchie and Atkinson knew Jeremy Strong was the right actor to carry it forward. "We had seen Jeremy in the movie The Big Short and were impressed by the bravado and confidence he brought to it, and thought that would work well with Matthew," Atkinson adds.  A Method actor, Strong stayed in character throughout production, but on one of the few occasions he stepped out of being Matthew, he surprised even those who'd been working with him for a while. As Atkinson recalls, "For four weeks, Jeremy was Matthew all the time – until one day he walked into Guy's Winnebago, as himself. It was a completely different person from the one we had been experiencing – and we almost had him thrown out because we initially didn't recognize him!"
Added to the cast of Guy Ritchie's Gentlemen was Michelle Dockery as Mickey's wife Rosalind.  Atkinson, noting that a close read of the film reveals Rosalind to be "just as tough as the guys; she doesn't back down from anything. You get the sense that Rosalind is in charge – that she's actually running the show." Despite the character being a central part of the film's action and surprises, the filmmakers had not yet cast the part two weeks prior to the start of production. As luck would have it, Ritchie was a big fan of the television series Downton Abbey, and thought Michelle Dockery, who portrays Lady Mary on the show, might be a good fit for Rosalind. But, says Atkinson, they worried that Dockery might be too "posh" for the tough-as-nails character. "Guy met with Michelle a few days before the first scene with Rosalind was to be filmed, and we knew immediately that she wasn't too posh at all. Michelle was exactly what we were looking for." Dockery embraced the chance to play a role unlike any she's explored before. "This is closer to my roots," she offers. "Often, I've played well-spoken and, yes, posh characters, like Lady Mary. So, when this part came along, I was delighted.
At the centre of Guy Ritchie's Gentlemen is Hugh Grant's sleazy blackmailing journalist, Fletcher who acts as a sort of narrator.  "There are a lot of long speeches in the film, and I spent months learning Fletcher's," Grant recalls. "I went on a skiing holiday with my children and didn't ski because I just walked up and down the lanes, all day, learning lines. But Guy's dialogue is certainly meaty and very brave. The challenge is to make that live and breathe and be your own, and I quite enjoyed doing that."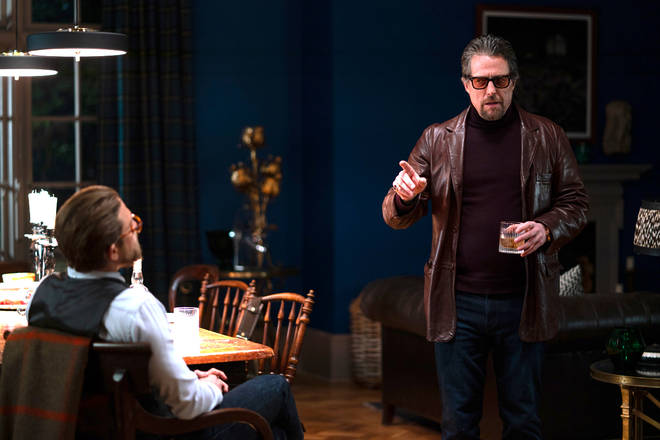 the sript for Guy Ritchie's Gentlemen was constantly fine-tuned by the director, often rewriting a scene on the day it was to be filmed – a process he undergoes on all his films. McConaughey was impressed by the filmmaker's insistence on getting it right, and the process it took getting it there. "Guy and I had more conversations than I've had on any other film. He really comes alive in continually reworking the script. It's delicious dialogue in a different meter than any I've ever played."
As well as an ear for dialogue the director also has an eye for the characters clothes. Hunnam discloses that he and Ritchie visited a London men's store, where they "spent three or four hours raiding their closet. I basically got all of Ray's suits from that one shop." The actor further divulges that "Guy is an impeccable dresser and very opinionated about what everybody is wearing in his films." Henry Golding who plays Dry Eye agrees, adding that, "Guy has such a keen idea of how he wants these characters to look. His sense of style is amazing. Matthew McConaughey's Mickey wears dark tweeds, stunning. Charlie Hunnam's Ray looks like he just stepped out of GQ."
Ritchie's approach also includes a unique rehearsal process he calls the "black box." Eschewing the traditional table read, where the actors assemble around a large table and read their dialogue, Ritchie and his cast instead shoot the entire script, guerilla filmmaking style, over a twelve-hour period. "It allows us to be completely clear about the film, boiling down three months of the production to come in an afternoon. It's 'Here's the film before we even make it,' Atkinson explains, "It's like you're doing a quick stage play," says McConaughey. "Guy gets a lot of important information from actually shooting the rehearsal. It allows him to see what the dynamic is going to be.
Guy Ritchie's Gentlemen is garnering decent reviews (see ours HERE) with Ritchie having returned to his favoured British gangster films genre and it's rumoured that his next film is an as yet Untitled revenge-based action thriller, which reunites him once more with long term collaborator Jason Statham.