So leaving aside a couple of days work on adverts for instant coffee George Clooney has been off our screens as a lead actor in movies since 2016's 'Money Monster' and hasn't directed since 2017's 'Surburbicon' neither of which really set the box office on fire. The Midnight Sky is his return to both acting and directing in a film adaptation of the Lily Brooks-Dalton book.  Set in 2049 Clooney plays the improbably named Augustine Lofthouse an astronomer alone in the arctic after all the staff are evacuated back to their homes. It leaves him manning the snow bound station isolated and alone sitting in the canteen eating his breakfast cereal in a scene not dissimilar from Trump the morning after the 2020 US election…..probably.
Lofthouse, with a wealthof equipment at his command finds a space shuttle manned by a pregnant Felicity Jones and her husband David Oyelowo with several other crew members making their way back to Earth from a exploratory planetary visit in a bid to populate. The crew are unable to contact ground control and its Lofthouse who finds that catastrophe has beset Earth– whether it's the appalling Christmas TV schedule is unknown as the reason remains unspecified and so he tries to warn the shuttle not to land. Now whether they had used up their free minutes on their tariff but when he tries to contact them he can't get a signal and his problems are further exacerbated  when  he finds a mute girl Iris (Caoilinn Springall) at his base who missed the evacuation.  So it's with her in tow they make their way across the arctic to another base with a stronger satellite signal in a bid to warn off the shuttle from landing.
The Midnight Sky alternates between three locales, Clooney & kid in the arctic, the crew on the space shuttle and flashbacks to the astronomer's early life and it's that structure that slows down the narrative and dissipates any tension with Clooney encountering several obstacles in a blisteringly blizzard battered arctic. The crew on the space shuttle are generally uninvolving except for a technically stunning set piece where they attempt to repair exterior damage to the ship but it's nothing that we've not seen before. In fact The Midnight Sky does seem to be made up of other similarly themed films probably most notably Gravity which Clooney also appeared in and has drawn influence from but there's also nods to Solaris, Ad Astra, Interstellar amongst others.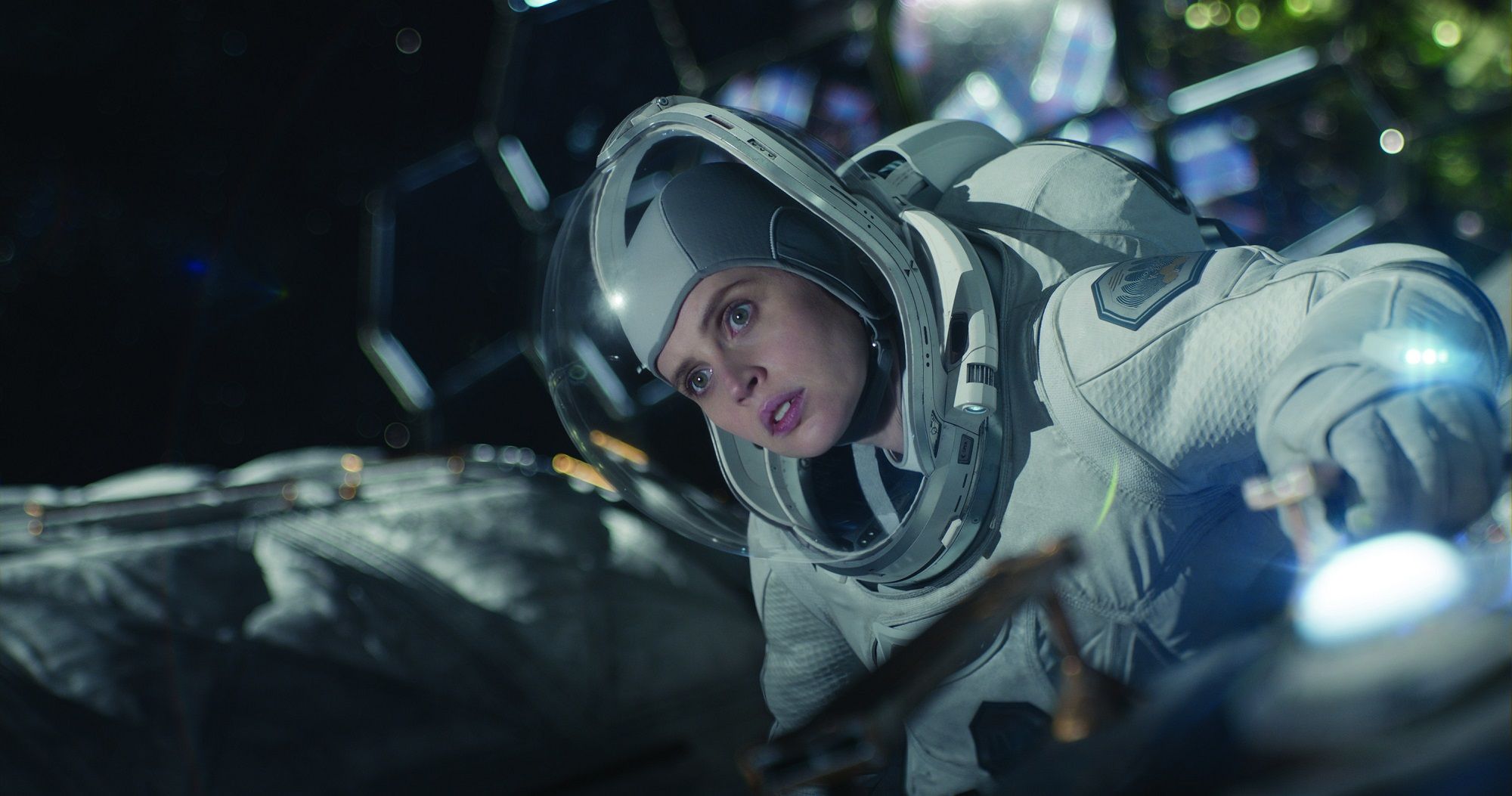 Iris though largely mute is delightful and the relationship between her and Clooney deserved far more exploration and ultimately she serves the sole purpose of giving Lofthouse a reason to succeed. But it's a problem of the film as a whole that it hops about never remaining long enough in one of the three strands for the audience to invest any emotion. As a director Clooney has made several utterly engrossing films notably 'Good Night and Good Luck', and 'The Ides Of March' but The Midnight Sky is as cold as its arctic setting.
Here's The Midnight Sky trailer……..