If there's one thing we would like to have known about David Copperfield it's how someone who looks like he's been rejected by TV show The Undateables for looking like a werewolf ended up dating supermodel Claudia Schiffer. And secondly his lovely magic show, attended by audiences with the same mentality of medieval peasants who believed a man could  fly….and yet strangely wasn't prepare to show he could do the same when asked to perform it in the car park outside the theatre. Anyway as it turns out The Personal History of David Copperfield is not about the perma tanned, sundried Vegas magician but Armando Iannucci's version of the classic Dickens novel as we've never seen it before.
David Copperfield is here deftly and enthusiastically played by Dev Patel, most recently seen in Hotel Mumbai , who narrates the film of the characters life starting as an orphan keen to get out of the gutter and make it as a writer.  With chapter headings the film sees Copperfield rise up through often challenging circumstances as he encounters a variety of quirky characters. And they ARE quirky to the degree where some are just out and out oddballs who wouldn't look out of place on The Jeremy Kyle show with Iannucci having gathered a brilliantly eclectic cast of great actors that includes a dotty Tilda Swinton, a wideboy Peter Capaldi but perhaps most notably an away-with-the-fairies Hugh Laurie and a gleefully oleaginous Ben Whishaw (soon to be seen in the new Bond film) as Uriah Heep resentful of the upper class and who wants to rise up from his position as a servant to lofty and wealthier heights of being a lawyer. It's a cosmopolitan cast that has black, white and asian actors in a progressive adaptation of the book which is as relevant today as it was then in a series of anecdotal recollections of the ups 's and downs of David Copperfield's life from childhood onwards.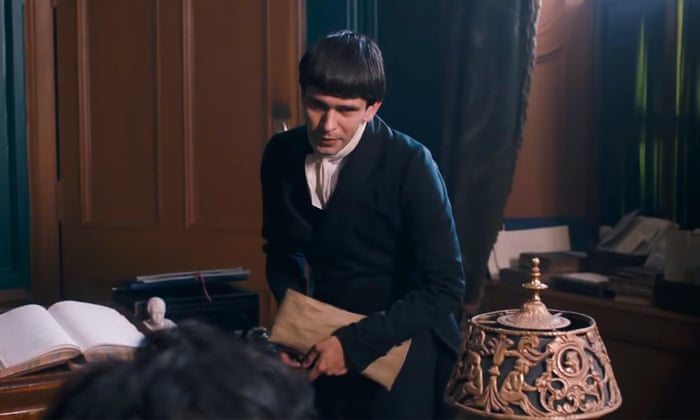 With economics and the class system at its heart and rather sidelining the issue of child labour Iannucci, who has also adapted the book with Simon Blackwell, has made an episodic book highly watcheable heaping the visuals with beautifully framed shots and flamboyant flourishes that make this  Iannucci's best film to date.
Here's the trailer for The Personal History of David Copperfield…….