Having never been married and committed himself wholly to his films but now Quentin Tarantino married his longtime time girlfriend Daniella Pick. The pair first met back in 2009 when he was on a promotional tour of Israel for 'Inglorious Basterds' but it wasn't until 2017 when they announced their engagement. Pick is the daughter of Israeli pop singer Svika Pick
Tarantino had only recently finished shooting on his latest film Once Upon a Time in Hollywood which stars Brad Pitt, Leonardo DiCaprio and Margot Robbie for release in 2019.
Before Quentin Tarantino married he had told GQ magazine, "When I'm doing a movie, I'm not doing anything else. It's all about the movie. I don't have a wife. I don't have a kid. Nothing can get in my way. I'm not saying that I'll never get married or have a kid before I'm 60. But I've made a choice, so far, to go on this road alone. Because this is my time. This is my time to make movies.'
So it seems now that the time was right for the 55 year old Tarantino to marry his 35 year old fiance and this may be because he has gone on record as saying he only intends to direct ten films and 'Once Upon a Time in Hollywood' will be his ninth and therefore potentially his penultimate film.
The wedding service was an intimate Reform Jewish ceremony at the couple's home in Los Angeles where Pick wore a strapless wedding dress that featured a corset, a full circle skirt and a sweetheart neckline. Present at the ceremony were Tim Roth and the recently divorced Eli Roth.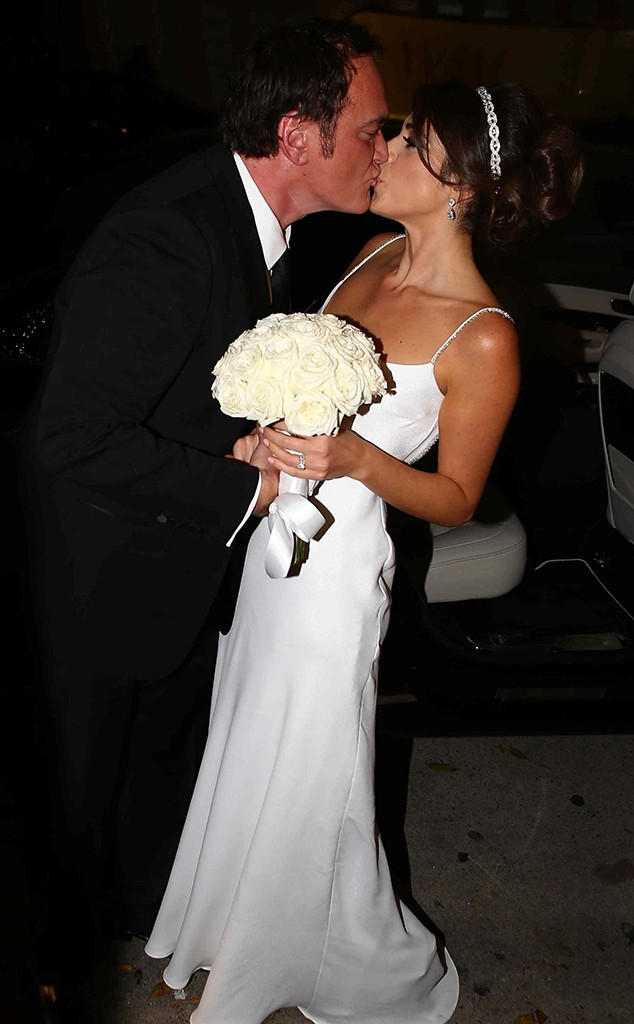 A body language 'expert' commented on the photo that Tarantino is eagerly leaning forward and stretching to kiss her whereas Pick is leaning back with eyes open as she kisses him.
Anyway can we have the first Hollywood trailer, Quentin?