Though director the films of Nicolas Roeg were variable they were distinctively singular and at times provocative vision with his earliest films being his best.
Born August 15th 1928 in London to a father from a aristocratic Dutch background and was badly injured  during World War One leaving him unable to work and so his mother took a job in a bookshop to help pay the bills. He went to prep school in Brighton before returning to London to do  his National Service.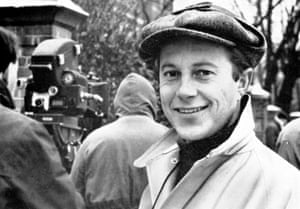 His older sister was already an actress but at the time there was no such thing as film school and having served his time in the army he found a job as a clapper loader at Marylebone studios with a documentary team and worked his way up to camera operator at Elstree studios where he worked on a number of forgotten films though one of his last was on the second unit for Lawrence of Arabia before he went on to work as cinematographer on David Lean's Doctor Zhivago where he grew bored of the directors time consuming methods and argued constantly with him. Nicolas Roeg was fired and cinematographer Freddie Young took over who went on to win an Oscar.
Roeg would work on Farenheit 451 for Truffaut and Far from the Madding Crowd for John Schlesinger before he moved in to working as both cinematographer on the first film he would get to direct. That film was the astonishing Performance which he co-directed with the painter and maverick Donald Cammell. Starring James Fox & Mick Jagger it shocked the studio so much that they delayed its release for two years due to its mix of sex, drugs and gangsters. The film, though not a financial success became a cult classic like so many of his other later films.
The following year having gone to Australia he carried out dual duties again on 'Walkabout' another film not without controversy with its story set in the Australian outback where two children, played by Jenny Agutter and Roeg's own son, whose on screen father  attempts to kill them. As the children try to find their way out of the desert they encounter an aboriginal boy and what follows is a spiritual and sexual awakening for them. Again it courted controversy due to a full frontal nude shot of Agutter who was only 17 at the time.
But it was Nicolas Roeg's third film 'Don't Look Now' which really cemented his reputation. Based on a Daphne DuMaurier book it was part horror story part drama as a couple dealing with the trauma of the accidental drowning of their child and move to Venice where the father thinks he sees his child. Again its controversy was around an intimate love scene between Donald Sutherland and Julie Christie that was cross cut with the mundane business of getting dressed where rumour's abounded that it was a real sex scene between the two actors (it wasn't).
It's success allowed Nicolas Roeg to make David Bowie's film debut as 'The Man who Fell to Earth' which divided audiences but again became a cult film due to Bowie who at the time had a debilitating addiction to cocaine. It was an uneven film but after this Roeg's film's continued to be divisive. 1980's 'Bad Timing' proved too much for many with a scene of a protracted suicide attempt.
Roeg was very much his own man and refused to toe the Hollywood line refusing to do interviews or any PR stunts which lost him projects meaning that his 70's films were to be some of his best.  1983's 'Eureka' barely got a cinema release before going  to TV.
By then he was moving more into TV and even directed the famous AIDS iceberg advert in 1987. His penultimate cinema feature film was an unusual departure for him being an adaptation of Roald Dahl's 'The Witches'. After this many of his films got extremely limited releases and he even directed an episode of 'The Young Indiana Jones Chronicles' and his final film 2007's 'Puffball' came and went with no one really noticing.
He was rumoured to be hard on his actors and his films often exasperated critics that seemed to deliberately want to puzzle anyone watching them. It was the same with his crews where on one occasion he made them shoot for 24hrs on the set of 'Bad Timing' prompting a near mutiny led by its star Art Garfunkel.
He was married three times firstly to Susan Stephen from 1957 – 1977 and secondly to actress Theresa Russell which also ended in divorce before marrying Harriet Harper in 2005 and might explain his films themes of loss and communication problem  between people. It was most noticeable in his films Castaway and even more so with Track 29 from a Dennis Potter script.
Nicolas Roeg was 90 when he died