42 years and 9 films later The Rise of Skywalker  brings the Star Wars franchise to an end with many of the characters having evolved whilst at the same time many of the detail obsessive 50 year old fans remain virgins. Picking up off the back of The Last Jedi it finds Kylo Ren (Adam Driver), having despatched Lord Snoke, is  keen to further his leadership of the Sith but it's the re-appearance  of the Emperor, looking even more frail with fingers like a packet of past their sell by date twiglets, who informs Kylo that he must find and kill the last of the Jedi with the warning that, 'She is not who you think she is'. His target is Rey (Daisy Ridley) still training as a Jedi with the resistance in tow and Leia leading them. It's one aspect of Rise of Skywaker which will attract attention as Carrie Fisher passéd away back in 2016 and as her final film many will want to see how The Rise of Skywalker gives her a fitting send off.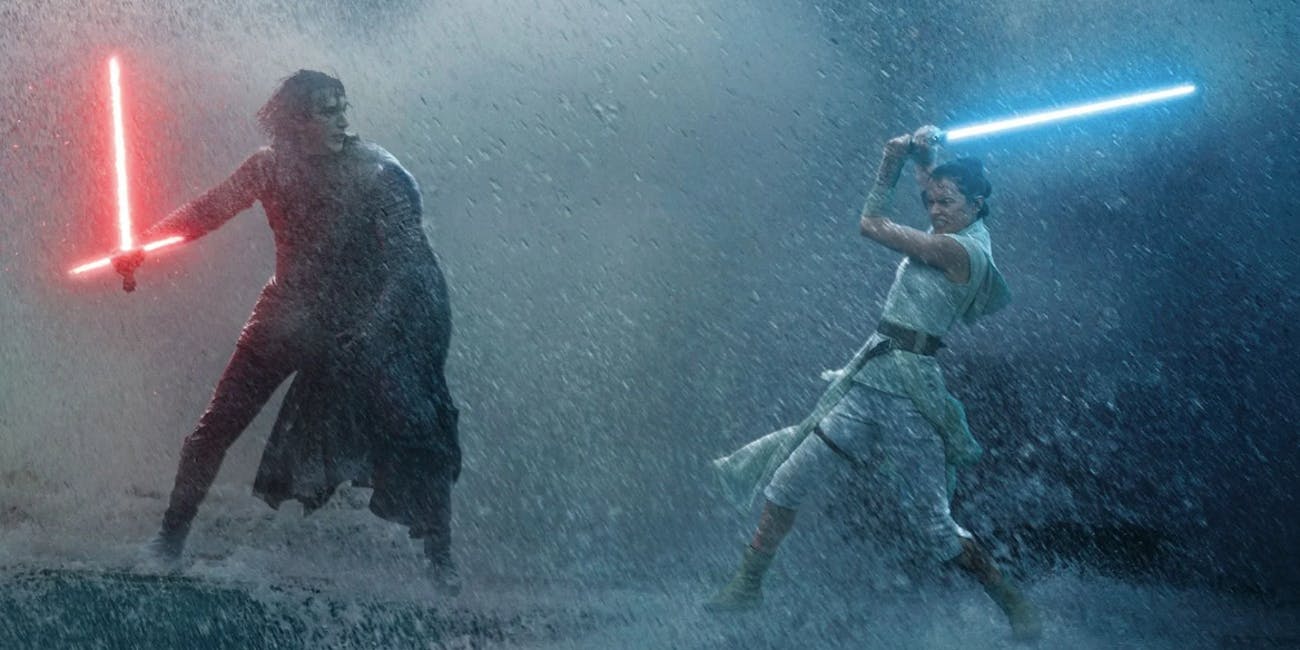 Rey, along with Chewie, Poe, C-3PO & Finn go off, flitting from planet to planet with Kylo Ren in pursuit an as he tries to track them down and using the force he is able to connect with Rey and battle it out across the ether in one of too many light sabre battles. Though it's a little too frequent there is a stunning battle fight between them atop an abandoned battle ship floating in a storm lashed ocean. Being the final film The Rise of Skywalker has the job of tying up all the loose ends  one of which is Rey's surname and we can exclusively reveal its not Gun, Dar or Kjavik.  So we see the return of the surviving cast member and characters and writer – director JJ Abrams brings back fan favourite Lando Calrissian although he doesn't really bring much to the table. Much has been anticipated about the possible return of Luke Skywalker but the real surprise is the appearance of a character who is wholly unexpected in a single and pivotal scene that spins the plot in a not wholly surprising direction.
JJ Abrams did a fine job with The Force Awakens even if it was a reworking of Star Wars but here he provides some thrilling visuals and even has franchise (and Disney's) first same sex kiss. Inevitably the obsessive Star Wars fans will pick away at The Rise of Skywalker – Just how does Finn run around on top of a giant star destroyer in deepest space without any oxygen support? – but by and large The Rise of Skywalker is a fitting send off with its combination of CGI and practical effects and Adam Driver easily overshadowing everyone else on screen .  There will obviously be a huge audience for this last film but now we've had five Star Wars films in as many years  it right that this should draw to a close and left for some years if it is to retain its event movie status.
Here's The Rise of Skywalker trailer…….