By any authors standards Stephen King's output is prolific with every novel eagerly anticipated by his fans and the studios only too happy to option them as movies that are of varying quality with respected directors that included Brian DePalma (Carrie) the late George Romero (Creepshow) David Cronenberg (The Dead Zone) Rob Reiner (Stand by Me & Misery) John Carpenter (Christine) and of course Stanley Kubrick with his version of The Shining which King famously hated. All of these had been adapted from his own books but Sleepwalkers was the first screenplay he had written directly for the cinema that was not based on one of his novels.  Released in 1992 things had begun to turn for King as the same year The Lawnmower Man had been released which saw the author take legal action to have his name  removed.
Writing the screenplay for Sleepwalkers gave him more creative control and he was given his pick of directors opting for Mick Garris who had helmed a number of TV shows including an episode of Freddy's Nightmares but had also made Critters 2 and the risible and wholly unnecessary Psycho IV. Sleepwalkers saw Mary Brady (Alice Krige) and her son Charles (Brian Kraus), a pair of incestuous modern day vampires (in several queasy scenes to make you say, 'Eeeew!) moving from small town to small town to prey on virtuous young women meaning that Amanda Holden was never in any danger. Appearing to everyone as human except cats, the shape shifting vampires have their eyes on a new victim Tanya (Madchen Amick) who falls for Charles, the new boy at school.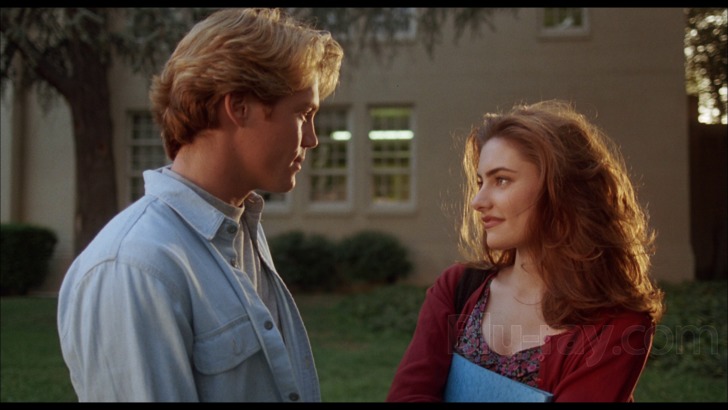 Krause had appeared in a sequel to The Blue Lagoon as the teen hunk opposite Milla Jovovich  whereas Madchen Amick had made her name in David Lynch's seminal TV series Twin Peaks and would appear in the 1992 film version also. Unfortunately the pair were competing with an enormous cast of cats (over 125) who appear throughout the film and must have been an animal wranglers nightmare if the term, 'trying to herd cats' is anything to go by.  1991 saw CGI really making its mark with Terminator 2 breaking new ground and 1993 would continue the technological breakthrough with Jurassic Park. Sleepwalkers was sandwiched between the two with CGI seemingly thrown in for the sake of it and at one point with Krause driving a car and morphing through several shape shifting appearances for no real reason except to draw attention to itself. The rest of the film relies on good old fashioned prosthetic make up and there's a decent featurette with the creature shop designer admitting that some of the prosthetic heads were just too big (and he's right).
The film did well at the box office earning three times its budget but fared less well with critics and understandably so because Sleepwalkers is definitely one of Kings lesser movies and was an indicator of films based on his books that would follow with nothing really in the 90's coming anywhere near his best work until 1999's The Green Mile. Perhaps the best things about the film is the supporting cast featuring early roles for Ron Perlman as well as the real life husband & wife who played Ferris Bueller's parents, again playing parents here but it's the cameos that catch the eye starting with Mark Hamill. But the real draw here is one scene that sees several masters of the macabre sharing a scene. Starting with Stephen King as a cemetery caretaker it would see him interact with Clive Barker, Tobe Hooper, Joe Dante and John Landis and is probably the highlight of the film for those in the know. Unfortunately the rest of the film is largely forgettable with some unintentionally funny moments with some scenes that could be best titled, 'When Cats Attack!'
With the film now on Blu-ray for the first time in the UK there are a number of decent extras with a commentary by director Garris joined by a film historian as well as a separate one with Amick & Krause and both actors get their own featurette to discuss the film and Amick who is now 50 looks better and better with age. Alice Krige also gets her own featurette to discuss the role and comes across as perhaps a little too analytical about the role as she recounts a story about draping her dressing room in fabric to maintain the mood of her character. The disc also includes the obligatory trailer and some behind the scenes footage and a limited edition collectors booklet.  Sleepwalkers is really for King completists only.
Here's the Sleepwalkers trailer…….
SLEEPWALKERS IS RELEASED ON BLU RAY ON 26TH OCTOBER 2020