What do you call someone who hangs round with a band ? The drummer. That certainly seems to be the case with Alice  (Debbie Ahakpo) the drummer with fictional band The Undefined  who has very little to do in South of the River about a band destined to always play …..well….South of the River. Comprising of four members  lead singer Aaron (Alex Gillison)  – a Bobcat Goldthwait lookee-likee, lead guitar Ziggi (Pantazis Theotokis) a dread locked tribute act to weeping willows, bass player Jackson (Joe Watkins who also writes and directs) and said drummer.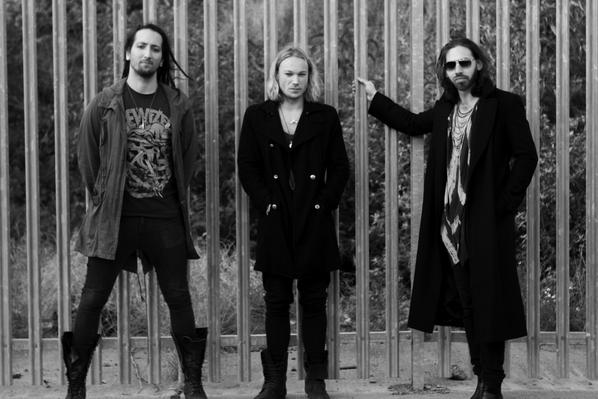 The focus of the film, as it always is with bands, is the lead singer Aaron waking up after another late night gig, breaking the fourth wall and delivering his monologue in a style not dissimilar to real life cartoon pirate, Russell Brand. His life revolves solely around the band and the local boozer,  playing gigs in Brixton pubs booked by their manager Maloney (Carl Maloney) – himself a bit of an Oasis wannabe just twenty years too late. The gig venues are hardly Wembley and judging by the audience size filling a phone box would be too ambitious. But the band amble along believing that they're going to make it any day now despite damning reviews and their  rivalry with another more successful band give South of the River a bit of edge.
Deluded as to the band's potential it continues when Aaron's Doctor gives him the news that he has early stage cancer in the throat which needs attending to urgently. For anyone else it's a no brainer as to what to do but for Aaron it will immediately curtail his fronting of the band and for that he delays the choice of two possible treatments he is offered. Keeping it secret from the band and for a while a new girlfriend who works as a barmaid at his local pub he carries on until he really has to do something about it. Whether it is too late and whether the treatment will work and the band will continue is at the core of the film.
South of the River is written by first time writer director Joe Watkins it's a labour of love and its competently made on such a low budget and owes much to Michael Caine starrer  'Alfie'. But the script suffers from a not especially likeable lead character so it's difficult to sympathize with his dilemma. A saggy second act sees the film go South from thereon and would have benefitted from an experienced co-writer to sharpen up the script. It's a shame because there's much to like as Watkins has written himself a decent role as Jackson the musically challenged bass player determined to be bisexual like his hero David Bowie until the moment when a model male chats him up and he has to make the decision whether to be bedded by him. The follow up scene where he meets his band mates the morning after with the hint that he now has an arsehole like a burst balloon is less than subtle and is played for laughs more than anything else. And the rivalry between The Undefined and the other band, a trio of what look like students who dress like they have an endless number of Top Man gift vouchers, is something that is more entertaining than the central plot which does meander and is not especially compelling. There's good support by David Spinx, best known for Eastenders,  as Aaron's feckless father and his scenes with his screen son are fun. On such a very low budget Joe Watkins shows he is a better director than he is performer and its in that direction that we're keen to see what his next film might be.
We spoke to writer / director / actor Joe Watkins about the film…….
Here's the South of the River trailer……