South Korea  is a country we normally associate with  zombie films and yet 2016's Train to Busan was a brilliant apocalyptic movie set aboard a train full of zombies wanting to snack on the passengers rather than anything that can be found in the buffet carriage as a father tries to protect his young daughter from the marauding masses. It was immensely successful earning $92m worldwide and now we have the final part of a trilogy titled, Peninsula.
With zombies swarming everywhere Jung-Seok (Gang Dong – Won) is driving his family in an effort to escape South Korea and get to a ship sailing for another country until a zombie stowaway pretty much decimates all onboard. Fats forwarding to four years later and having escaped the zombie riddled ship he finds himself in Hong Kong with South Korea quarantined from the rest of the world – the Peninsula in question. He's in his own kind of purgatory – safe from zombies yet enslaved by a gang to do as they bid. But it's the gang who offer him a way out by returning to the peninsula where the population have dumped everything to flee to safety and in doing so there's unguarded riches notably a security truck containing $20m in US dollars.  His mission? Get in, get out with the truck by driving it to a ship the gang will have waiting. In exchange he will get for $10m to be split between himself and the three others also tasked to help him.
The Peninsula is now a grimly desolate cityscape, a city without hope, a city where whoever is left cowers amongst the dereliction   – basically it's Bridgend with better architecture. Finding the truck the zombie population also find them as do a platoon of renegade soldiers called Unit 631 whose original mission was the extraction of personnel but have now gone rogue. It all goes downhill from there for Jung-Seok with his team either falling prey to the zombies or Unit 631 who use one of Seoul's team as part of their own zombie Thunderdome.  Very quickly Peninsula draws heavily on the Mad Max franchise and the story splinters between Jung-Seok and a mother and her 2 daughters that he drove past refusing to help at the start of the film, one of his team used for sport by the unit and the Unit's Captain who finds what's really in the tuck and determines to use it to escape.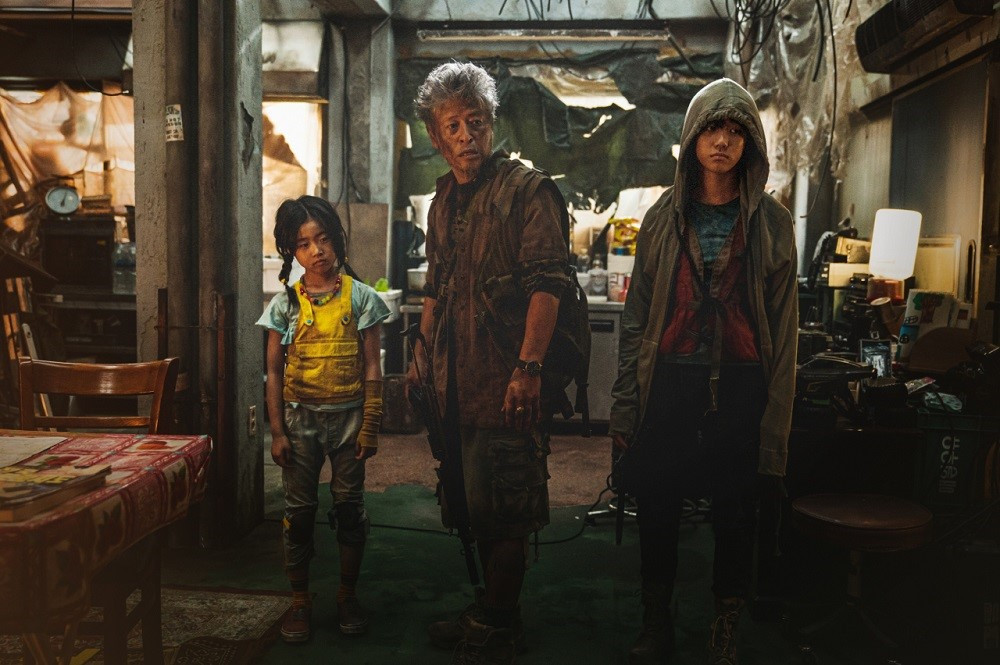 Though Peninsula does pick up from the end of Train to Bussan it requires no knowledge of its predecessor and works just as well as a standalone film. But the beauty of the first film was its single minded set pieces on the train with a cast of likeable characters and a father-daughter relationship which gave the film its heart. Peninsula tries the same but greatly opens up its canvas which dissipates its focus and perhaps best are two children who play pivotal roles in the films action set pieces joyriding round the city handbrake turning their way round corners and clattering through swarms of the undead.  And the action set pieces are exhilarating and the most enjoyable art of the film, competently handled, hugely enjoyable and immensely exciting with masses of zombies at one point pouring off a motorway bridge like an army of undead commission seeking RAC employees in pursuit of drivers they want to sign up.  A little overlong and a somewhat drawn out sentimental climax this is nonetheless monstrously good fun.
Here's the Peninsula trailer……..