Stan and Ollie better known as Laurel and Hardy were, and still are, the finest comedy double act ever to hit the big screen. Their antics started off with short two reeler films with classics such as The Music Box before going on to feature lengths films such as Way Out West which in themselves were master classes in comic timing and superb comic set pieces which is where the film starts with the pair in their studio dressing room chatting before being called to set and the camera follows the duo through the studio corridors to the set of Way out West all in one smooth continuous take which owes much to Scorsese's one shot through the kitchen into the night club in Goodfellas.
It's 1937 and the Stan and Ollie were at the peak of their worldwide fame except their contract with Hal Roach didn't really reflect this and it's Stan who makes a stand for a better deal. It's here that their on screen dynamic is very much different to their real life one. Ollie, the on screen bolder of the two but in real life doesn't want to make waves and is only too happy to maintain the status quo whereas  Stan the on screen simpleton, was in real life the powerhouse writer behind their success and was only too aware that they should be on far better deal. Stan is slapped down and reminded that Ollie is tied into a longer deal with Roach. So if Stan goes he'll be on his own with Ollie potentially in breach of contract if he follows.
Therein lies the tragedy as the film catches up with them 16 years later with their careers very much on the downward slide with the pair now performing their routines on a lacklustre yet gruelling British tour of the provinces to audiences that barely register in double figures and staying in guest houses who are as surprised to see them staying there as much as they are surprised to have been booked in there by their agent a slippery and less than complimentary portrayal of Lord Delfont (Rufus Jones). It's a dramatic fall from grace with a duplicitous Delfont hardly being  truthful about his shenanigans trying to put off the pair from coming to a London that is less than interested. It's only when they go out on  limb to promote their tour that things start to pick up that Delfont is confident in booking them into London's West End theatres.
As the  duo Steve Coogan and John C Reilly are absolutely spot on capturing every nuance of each man making both utterly endearing and the their double act is matched by the double act of their respective wives when they join them on the tour. Both men had gone through multiple marriages especially Laurel and was now married to a Russian woman Ida Kitaeva (a superb Nina Ariande) keen to remind everyone that she is a dancer in films and with Hardy's wife Lucille (Shirley Henderson) only too happy pulling the rug from under her reminding everyone that Ida was only ever in obscure films. It's their sly digs at one another that make them as entertaining as their husbands and Ariande and Henderson are in turn brilliantly vain and waspish & blunt and hilarious.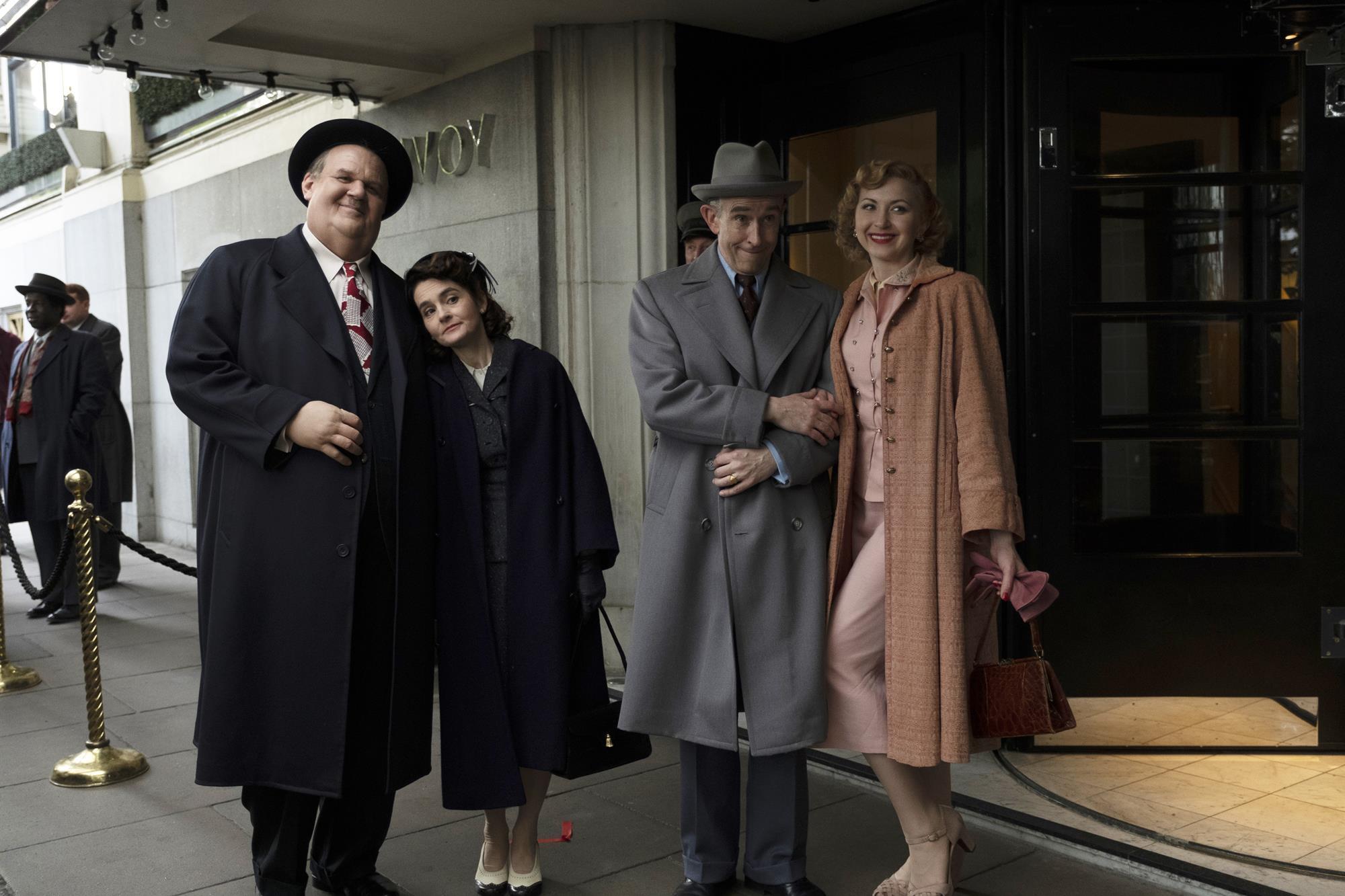 The true life story covers the tail end of their career and there's a melancholy about the film as Laurel struggles to get the finance for another Stan and Ollie film from a studio that won't return his calls and one of the great parts of the script is the recreation of parts of this unproduced script, a Robin Hood spoof, that is one of the films many highlights. As with any long term partnership they fall out when Laurel's repressed resentment about Hardy making a film on his own that has them splitting up and with Hardy's health faltering that there's a fear that he might have a Tommy Cooper moment dying live on stage.
Written by Jeff Pope who has plenty of experience in the true life dramas with Philomena, Cilla, Lucan & Essex Boys under his belt this is ultimately a kind of love story made with much affection for the two comic actors. It's full of clever moments too with hints at their classic comic moments such as The Music Box's piano sliding down a long flight of stairs (though here it's a suitcase). Coogan and O Reilly are totally believable inhabiting their characters and its reminder of just how influential their comedy was. This is an immensely enjoyable 97 minutes for those familiar with the duo it's a delight and for those new to the duo it's enough to make you seek out their brilliant back catalogue. For the gloomy return to work this is a hugely enjoyable start to the New Year.
Here's the Stan and Ollie trailer……