It can't be underplayed just how important a player Carl Reiner was in American comedy having been in turn writer, performer, director, producer. His influence on US comedy was huge.
Born March 20th 1922 in the Bronx area of New York to Jewish immigrant parents, his mother was Romanian and his father Austrian and Reiner had wanted to be either a baseball player or failing that an opera singer. Instead he found himself repairing sewing machines whist studying acting at a Drama workshop but with the outbreak of WWII he was drafted into the army becoming a corporal and was honourably discharged in 1946 having spent two years performing in shows for the troops. It set him up for his first job in a musical revue the following year and landed a role as the straight man to Sid Caesar in the hugely popular 'Your Show of Shows' on TV where he also wrote with Mel Brooks and Neil Simon.. He worked extensively with Brooks on the show for 9 years during which time the duo began their beloved 2000 year old man interviews initially to relieve their boredom in the writer's room.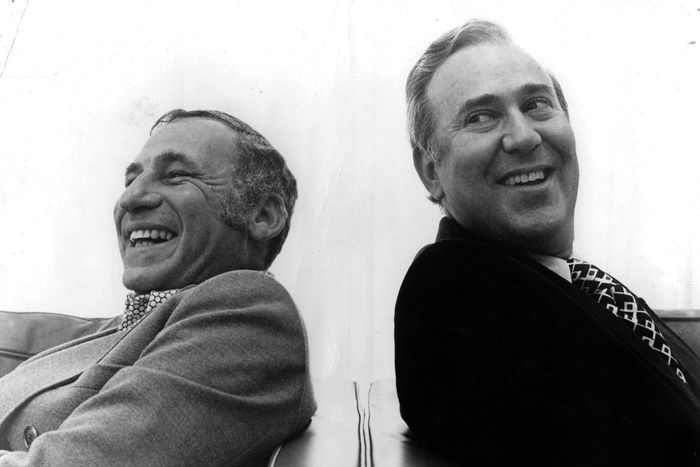 In 1943 he would marry Estelle Lebost a singer who he adored and they became parents to three children Rob (who himself would become a respected director) Lucas & Annie and become  grandparents to five children.
It was Reiner though who came up with the idea for The Dick Van Dyke show based on his own experience of balancing his home life with his work as a TV show writer. Dyke, like so many to follow were hugely appreciative of Reiner's work on the show and Dyke would appear opposite Doris Day in two comedies that Reiner would also write. Carl Reiner by now was starting to appear in supporting roles in feature films also but it was to prompt an interest in working behind the camera as a director with 1967's 'Enter Laughing' a semi autobiographical film based on his own novel which had became a Broadway play too. His second film 'The Comic', again with Dick Van Dyke, was  a blend of laughs and pathos but was largely ignored but a few years of TV shows saw Reiner  return to film with 1977's 'Oh, God!' with George Burns in his best film role and was successful enough to spawn two sequels. Carl Reiner would follow it with a couple of decent comedies but hit a creative and critical high pairing with Steve Martin in his first and arguably best films for both starting with The Jerk and followed in succession by Dead Men Don't wear Plaid, The Man with Two Brains & All of Me. Each of these showed Martins' undisputed gift for verbal and physical comedy especially 'All of Me' which saw his body inhabited by the spirit of Lily Tomlin.
After then his films declined in quality and he came to the attention of modern audiences appearing opposite George Clooney & Brad Pitt in the Oceans 11 ensemble films. His wife died in 2008 and for some time afterwards he was consoled by his longtime friend Mel Brooks who had also recently  lost his wife and they would sit at his house watching TV and cracking jokes.
He was prolific in his output having written TV shows, films, plays, novels and even children's books and over his career he won 9 Emmy awards
A lifelong Democrat he loved to tweet his disdain for Trump and the day before he passed away he tweeted, , 'Nothing pleases me more than knowing that I have lived the best life possible by having met & marrying the gifted Estelle (Stella) Lebost—who partnered with me in bringing Rob, Annie & Lucas Reiner into to this needy & evolving world.'
He was 98 when he died at his home from natural causes.