For Stallone Cliffhanger had been a bit of a godsend giving him a much needed hit after two consecutive and disastrous comedies, 'Oscar' and the even worse, 'Stop! Or my Mum will shoot' which had only made £23m & $28m respectively in the US.  At the same time the Finnish director Renny Harlin had proved his action credentials with Die Hard 2, a worthy sequel to one of the all time great action films.
Cliffhanger was based on a story by Michael France and along with Stallone they wrote a screenplay with the actor as part of team of mountain rescue climbers battling with his own inner demons after a tragic accident killed a female colleague for which he held himself responsible.  Redemption would come when a gang of robbers botch a mid air heist over the Rockies resulting in suitcases full of cash being lost in the mountain range and Stallone being forced to act as their mountain guide but having to save his colleagues from them too. With a gang leader played in entertainingly pantomime fashion by John Lithgow (Pitch Perfect 3) and Stallone on heroic stunt duty the film was hugely entertaining.
Cliffhanger turned out to be one of Summer 1993's best blockbusters and had the good fortune to open two weeks before Spielberg's 'Jurassic Park' stomped all over everything that opened afterwards including Schwarzenegger's, 'Last Action Hero' which flopped signalling the beginning of Arnie's demise as the number one box office star. Cliffhanger was helped by director Renny Harlin and the marketing team putting together one of the best ever trailers. Grandiose operatic music matched only by the splendour of the immense mountains as Stallone and co. hurled themselves around and topped off with the tag line, 'Hang On'. It was unlike the usual trailers for the summer blockbusters and it spiked audiences  interest again to see Stallone in an action film again. They would not be disappointed.
Initially Harlin had not been interested in the script knowing that most 'men on a mountain' films were restricted by conditions as to what shots they could get. So for those films it was an achievement in itself just to get the equipment up the mountain and the shot became almost secondary. Harlin was having none of it and the array of shots he achieved with his crew as they shot in the Alps which were to double for the Rockies was impressive, thrilling and in many cases gave audiences vertigo none more so than a brilliantly conceived opening sequence where Stallone struggles and fails to save his colleague dangling from a cable 8000ft above a valley.  This re-released disc has one of two featurettes showing how it was achieved with both Stallone and co star actually that high in the air with only a cable 1/8 inch thick keeping her from actually plunging to her death. The second featurette shows the model work involved with a helicopter for the climatic sequence and is not quite so impressive.
What is missing from these featurette's is the mid air heist. If you've seen the initial sequence at the start of Chris Nolan's 'The Dark Knight Rises' with the rescue of Bane from an aeroplane its clear to see that it was very much influenced by that one seen in Cliffhanger where Lithgow's team follow a cash carrying jet in their own jet, then fire a cable into it and the gang pull themselves across thousands of feet in the air to carry out the heist before it goes awry. It's a thrilling sequence all the more so with nothing like it ever having been done before and the  stunt team were only too aware that there was little if any margin for error.
The film was complimented by the work of real life mountain free climbers who pull off some nausea inducing climbs hanging by their finger tips above sheer drops and all added to dangerous atmosphere of what the characters were going through. It was also a pre cursor to Tom Cruise lurching leaps at the start of MI:2.
The crew found that what was already a potentially dangerous shoot was made worse by the frequently appalling weather conditions which at various points had entire departments trapped on the mountain or just as bad would freeze the camera equipment making it unable to be used for that days scenes. Harlin still managed to get the film in on time and on budget something that would not happen with his next film,  the disastrous 'Cutthroat Island'.  Stallone along with Lithgow were ably supported by Michael Rooker (who was still riding the rave reviews from 1986's 'Henry: Portrait of a serial killer') and Janine Turner (Monkey Shines) who was mid series of the hugely successful TV show Northern Exposure and Craig Fairbrass who, having found success in 'London's Burning' and 'Prime Suspect 2' upped sticks from London to find success in what would be his first Hollywood film before he found himself, like so many other Brit TV stars, returning to the UK for work.
After several flops Stallone needed the $70m budgeted film to be a hit to see if he still had action appeal for audiences. He needn't have worried with the film making $84m in the US before going on to make a further $170m in the rest of the world and Cliffhanger would even go on to earn 3 Oscar nominations in technical categories (Best Sound, Sound Effects Editing & Visual Effects).
The re-release is part of the better action films in Stallone's  back catalogue which includes the original Rambo trilogy and features a number of extras the best of which are two commentary tracks one by Stallone and Harlin and the other members of the technical crew that includes the visual effects supervisors and production designers and is  an intriguing insight into how the film was slotted together between studio, locations and clever use of angles and effects to achieve the, at times, breathtaking shots and sequences.
Less good is a 'making of' from an older disc which has Stallone on the Judge Dredd set clearly reading the autocue. There's also a personal intro by Harlin as well as deleted scenes and a storyboard comparison which are also from a previous special edition of the disc.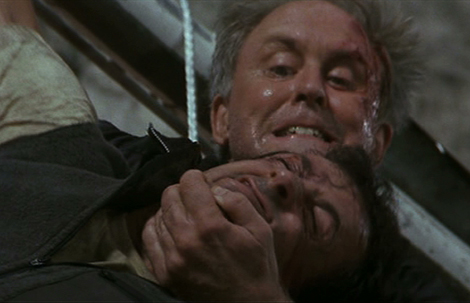 In a year that also saw Schindler's List, True Romance, & Mrs Doubtfire and with blockbuster competition from The Fugitive, Wayne's World 2 and….um Super Mario Bros it was  Cliffhanger that re-established Stallone as a credible action star again.
The release of the Cliffhanger disc though not as packed with bonus features as might be hoped for (it doesn't feature the films bravura trailer for a start) is still worth it for both commentary tracks.
Here's the Cliffhanger trailer…….
Cliffhanger is released on Dvd & Blu ray on 12th November 2018