The late sixties and early seventies had seen a spate of women in peril shockers perhaps instigated by the success of the highly effective thriller Wait Until Dark with its most unlikely of stars Audrey Hepburn. The screenwriter Tudor Gates whose previous had included Hammer films 'Lust for a Vampire' picked up the gauntlet and wrote his own 'woman in peril film' titled, ' Fright '. The story of a young babysitter Amanda (Susan George) arrives at the Lloyd residence (Honor Blackman & George Cole) to spend the evening looking after their young son. Soon after the Lloyds leave a series of frightening occurrences in the gloomy old house have her nerves on edge. The real terror begins however, when the child's biological father appears after recently escaping from a nearby mental institution.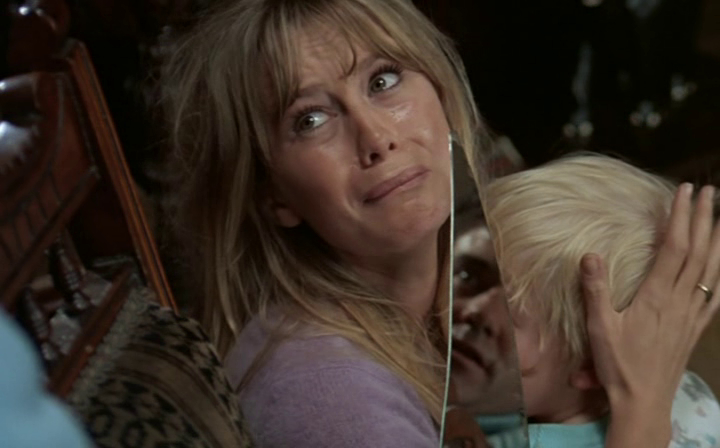 Fright had a great premise for a horror shocker and the terrorized babysitter theme would be revisited to monumental success in 1978 with John Carpenter's Halloween and then again in 1979 with 'When a Stranger Calls' both extremely good in their own way. Released in 1971 Fright would be directed by Peter Collinson who had achieved huge success with The Italian Job and was an extremely competent director who would tragically die young at only 44 years of age in 1980. He had cast a young Susan George who was only 20 at the time of filming and had a series of TV productions under her belt but this was to be her first proper lead role and she would be the babysitter to a child who would be Collinson's own son and to that end she spent a lot of time with the Collinson family getting to know the child to ensure he was comfortable with her when the shoot began of what would be some uneasy scenes for a child to be involved in. the release of Fright would also bring her to the attention of Hollywood as shortly after she would star in Sam Peckinpah's controversial 'Straw Dogs' in a role notorious for the, 'is it or isn't it' rape scene.
Added to the cast of Fright was Honor Blackman who had established her stardom in The Avengers TV series and Goldfinger one of the best Bond films in the franchise. It would also see George Cole who most people knew as the spiv Flash Harry in the early St Trinian's films but would become a household name when he starred alongside Dennis Waterman in TV's long running Minder series. Waterman also starred in Fright albeit never sharing a scene with Cole. Rounding off the cast was Ian Bannen as bonkers Brian the lunatic who terrorizes Susan George and here he turns on the chills.
Now on Blu Ray for the first time the  Fright disc has a good transfer of the film but is a little thin on bonus features with a featurette with the always good Kim Newman discussing the film' history as well as an interview with Susan George who at 69 years old looks great. Added to this is a behind the scenes stills gallery. Unfortunately with Collinson having passed away there's no commentary but one with Susan George would have been worthwhile.
Fright is one of those long forgotten but decent little British films with some creepy moments that are well orchestrated and its well worth a look.
Here's the Fright trailer…….
FRIGHT IS RELEASED ON BLU RAY & DVD ON 14TH OCTOBER 2019