Three-time Oscar nominee Phoenix ("The Master," "Walk the Line," "Gladiator") is garnering huge acclaim alongside Oscar winner Robert De Niro ("Raging Bull," "The Godfather: Part II") in Joker but just how did that Joker transformation happen?  Oscar nominee Phillips ("Borat," "The Hangover" trilogy) directed from a screenplay he co-wrote with Oscar-nominated writer Scott Silver ("The Fighter"), based on characters from DC.  "I love the complexity of Joker' said Todd Phillips 'and felt his origin would be worth exploring on film, since nobody's done that and even in the canon he has no formalized beginning. So, Scott Silver and I wrote a version of a complex and complicated character, and how he might evolve…and then devolve. That is what interested me—not a Joker story, but the story of becoming Joker."
The film features just enough Gotham landmarks, deftly woven into its grimy landscape, to situate the audience and allow star Joaquin Phoenix's hypnotically raw Joker transformation to evoke the requisite emotions to take this journey with Arthur through the city's—and eventually his own—darker side. "One of the themes we wanted to explore with the movie is empathy and, more importantly, the lack of empathy that is present in so much of Arthur's world," Phillips states. Co writer Scott Silver says, "He starts out just wanting to make people laugh, trying to put a smile on their faces. That's why he's a clown, why he dreams of becoming a stand-up comic. He just wants to bring some joy into the world. But then the toxic environment of Gotham breaks him down—the lack of compassion and empathy, the loss of civility… That's what creates our Joker."
The Arthur that Phillips and Silver created is caught in a cyclical existence of misread cues that prompts the Joker transformation.  Even Arthur's uncontrollable, inappropriate laughter, which gains momentum as he attempts to contain it, garners no sympathy from those he encounters in his daily life, exposing him to further ridicule and alienation from Gotham society. "Nowadays, what he has is a recognized syndrome, but in the time our story is set, it was not really diagnosed, though it was a real condition," explained Todd Phillips. "I was inspired by the character studies that I watched when I was younger. The look, the vibe, the tone of those films made sense for this story." To Phillips, that meant the 1970s and `80s, the era of such great films as "Serpico," "Taxi Driver" and "Network."
Phillips wrote the part with Phoenix in mind. "Joaquin's previous work always stuck with me, but what I really like about him is his style and his unpredictability, which we felt would very much fit into this character," Phillips offers. Though he'd resisted any sort of genre-inspired projects in the past, the actor was intrigued when he read the script. "I thought it was bold and complex and like nothing I'd ever read before. Todd has a unique way of looking at things that is really perfect, I think, for this movie," Phoenix observes.
Crafted with Silver over the course of, as Phillips recalls, "a year in a little office in New York," they began by determining a path to which such an ordinary man could become such an evil and notorious character in the Joker transformation. "In the version of the story we were telling, having a guy fall into a vat of acid didn't work, while I think it's interesting, so we tried running everything through a 'real world' lens," he says. "To make sense in the world of our movie, we thought, 'Well, why would he put this make-up on when he eventually becomes Joker? Where did he get this make-up and why does he have it? What if he's a clown?' Phillips went on to say, "Then, of course, we had to ask ourselves why he'd work as a clown," he continues, "which we determined was because his mother always told him he had to bring laughter and joy to the world. It all came together from there."
Since the film has been on release there ave been an increasing number of interpretations about what happens on screen some even speculating that its part of Jokers imagination. It's an idea that comes from the scripts 'unreliable narrator' – "So, what really happened, and what you think he is by the end, just depends on the lens through which you watch the movie. You won't walk away having all the answers and that's what I think is intriguing about a character like this." said Phillips. "Unfortunately, how he sees the world and, frankly, what he thinks is funny don't really work," Phoenix describes. "He doesn't understand their kind of humor and he isn't able to mimic it, either."
Much of that character building in readiness for the Joker transformation came about through Phoenix's preparations for the role, taking a cerebral preparation and turning it corporal. In the film, on the advice of his social worker, Arthur keeps a journal, which also contains his drawings, prose and imaginings. Throughout pre-production, Phoenix himself made several entries. The actor states, "I was writing in Arthur's journal when Todd sent me a note about the set of steps in the story. That inspired me to write 'step after step after step,' over and over and line by line across the pages, and then it became something we'd text to each other."
In the beginning of the film, we see the wilted way Arthur carries himself as he ascends the stairs, building on another idea Phillips implanted in Phoenix, that Arthur walks with "heavy shoes," carrying the weight of the world with him. When he later descends them, however, we see not only a very different Arthur, but a wholly different carriage. It's a stand out scene in the Film with the  Joker transformation complete but attracting controversy due to Joker dancing to 'Rock N Roll Part 2' by 70's pop star and convicted sex offender Gary Glitter.
Another part of the actor's dedication to Arthur's presentation and Joker transformation was to drop 52 pounds, by consuming little more than an apple a day. Phillips confesses it was his idea, stating, "I wanted the character to look hungry and unhealthy, like a malnourished wolf." Phoenix and Phillips developed a close relationship during filming as they worked to discover and define the finer points of Arthur's dual nature. With careful consideration over the course of the story and a traditionally unreliable narrator like Joker setting the scene to emerge from within the chrysalis of this socially awkward and increasingly desperate man, they left the very truth of Arthur Fleck's story open to interpretation, like Arthur's own experience. "There were times when I thought Arthur would enjoy altering his story because of the effect it would have on how someone might feel about him, and there were other times where I thought he'd alter it because it's what he really believes," the actor offers. "Usually with characters that is frustrating, not understanding their motives; but with this character it became liberating, realizing it could go in any direction. Working with Todd on a scene, if we didn't find a surprising way of exploring it in the moment, we felt like we weren't doing it right."
To create Arthur into  Joker  transformation Phillips sought out costume designer Mark Bridges, who had designed for Phoenix in both "The Master" and "Inherent Vice." Bridges notes, "Those films are also set in periods of transition, one in the 1950s and the other in the 1970s." Phoenix's physique became quite slim by the time filming began. "I honestly don't know how he does it," Bridges posits of Phoenix's discipline, "but we started fittings six months before filming, so it became part of my collaboration with him, too—not just tailoring things to fit, but are we hiding his physique in this scene, are we playing it up in that one?" Todd Phillips had never worked with Bridges before, but greatly admired his designs. "Mark is incredible," the director comments. "Just going to Robert De Niro's suit fittings with him was an experience. And because he had worked with Joaquin a few times before, they already had a great rapport."
For the period in which "Joker" takes place, Bridges observes, "If you're true to, say, 1981, there was a certain range of colours and colour combinations available in stores. We used a lot of blue, brown, maroon, mauve, gray, navy, khaki… We moved away from the burnt oranges and greens of the `70s, though I still threw in a few for the story's sake. But just by adhering to that palette, it automatically feels like some other time because it's not what they're selling in the stores right now." Insofar as Arthur's fashion sense goes, Bridges says, "He's very much a John Q. Public, so to speak; not much style that isn't very practical. He dresses for comfort and has had his clothes for a while, and there's a vague childlike aspect to it as well as an old man look to it. With Joaquin, I don't ever want to give too much away with the choices I make because his performance is so strong."
In the opening frames of the film, however, we see Arthur at work, which involves an actual costume that would be of Arthur's own design: party clown. "Knowing that some of the character's movements in the film were inspired by some of Charlie Chaplin's moves, I worked a little bit with that silhouette, as well as the knowledge that it would be something Arthur's put together in a very makeshift way." Bridges does acknowledge, however, "One personal conceit of mine is the little derby he wears, because I've always loved that on clowns." And, of course, as part of the Joker transformation  Arthur wears the traditional big clown shoes as well, in which Phoenix was required to run several times—no easy feat.
When it came down to the actual Joker costume for the film, Bridges happily reports that its design was, in part, written into the script as "a rust suit Arthur has had for many years." Still, he confesses, "You have a million thoughts running through your mind and there's a little bit of external pressure to serve the fans as well as the piece. But ultimately my work comes down to telling this particular story, where the outfit has to be something very organic to the character: pieces we've seen Arthur wear before, now reassembled to become what Joker wears." Working backwards, Bridges was able to determine when and how much of the building blocks to the final look would appear throughout the story. "I started from the beginning and then took it on a journey—this piece in the comedy club, how it gets recombined with different items at different beats—to get to the final result. When Joaquin and I had our final fitting for the full suit, it was all put together with the right shirt, the right waistcoat… It was dead-on `70s with a slightly longer line in the jacket, and he took on a strange, slinky confidence that he doesn't have as Arthur, but which was just right for Joker. To me, that was really satisfying."
Throughout the film, Arthur dons a clown face of varying degrees for various performances in the Joker transformation. His ultimate Joker look was designed by Phillips and Phoenix as an exaggerated version of Arthur's regular maquillage and executed to perfection by make-up department head Nicki Lederman and her team, utilizing the basic red and green of Arthur's clown character. Lederman herself created a unique shade for Arthur's tears from various pigments she had on hand, dubbing it antique blue.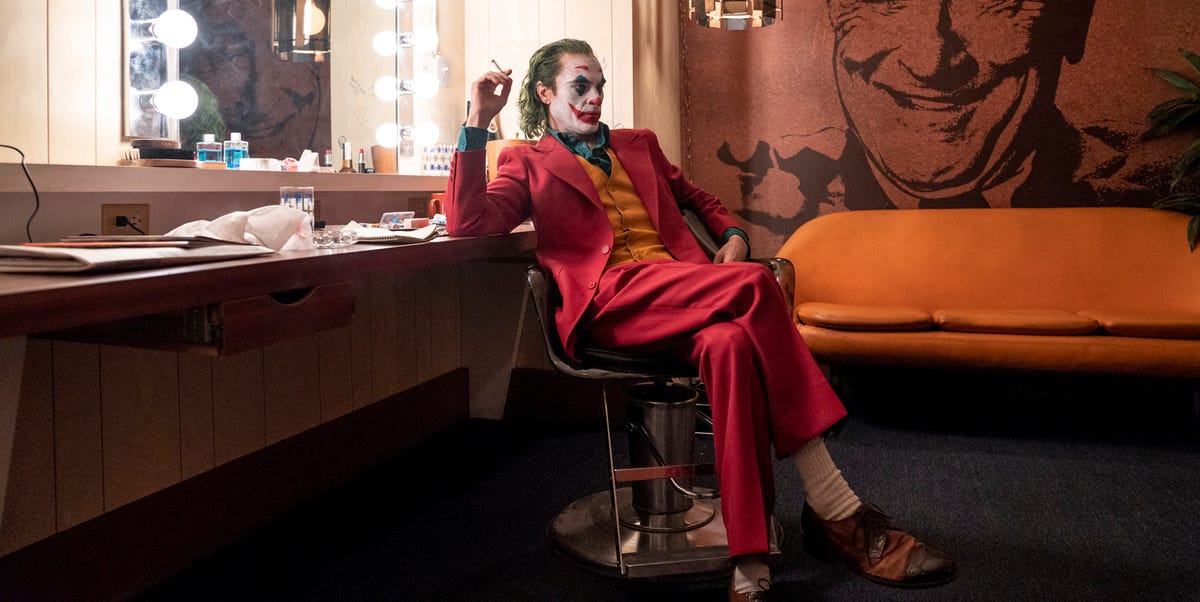 Joaquin Phoenix adds, "As Joker, he walks tall. He's confident. Prior to that it's like he was a shell of himself' and in that respect the Joker transformation was complete.