When your father is a Hollywood acting legend Henry Fonda it's always going to be hard to make your mark and Peter Fonda also had to contend with his older sister Jane also being a huge star too. Born on February 23rd 1940 in Manhattan, New York he and Jane were sent to live with an uncle and Aunt after the suicide of his mother, Frances Ford Seymour in 1950 when he was 10. The following year when he was 11 he accidentally shot himself in the stomach and nearly died in the process.
Inevitably with his father Henry Fonda an acting legend he decided to follow in his father's footsteps and after leaving university he began acting in local theatre starring as the lead in 'Harvey' which had been filmed in 1950 starring James Stewart. By the early 60's Peter Fonda was working on Broadway where he won a Best Actor award before making his film debut in1963's 'Tammy and the Doctor' opposite teenage star Sandra Dee. But it was his third film 'Lilith' where he played a slightly nerdy schizophrenic where he proved that he was as good an actor as his father.
Peter Fonda, now shaggy haired and living a bit of a Bohemian lifestyle led him to the Sunset Strip riots in 1966 which erupted at police harassment of the shaggy teenagers flocking to LA. He was not only present, but arrested. He had had an image overhaul having appeared in The Wild Angels whose iconic dialogue that was sampled for Primal Scream's iconic 'Loaded' album. The film took him down the path of more psychedelic films such as the appropriately titled 'The Trip' written by a young and unknown Jack Nicholson and also starred Dennis Hopper. It was during the publicity tour for the film that the idea came to him for Easy Rider a film that would forever define his career as Captain America (not that one). With Hopper directing and Fonda producing they made Easy Rider for $400,000 and over the following years would earn a staggering $60m worldwide.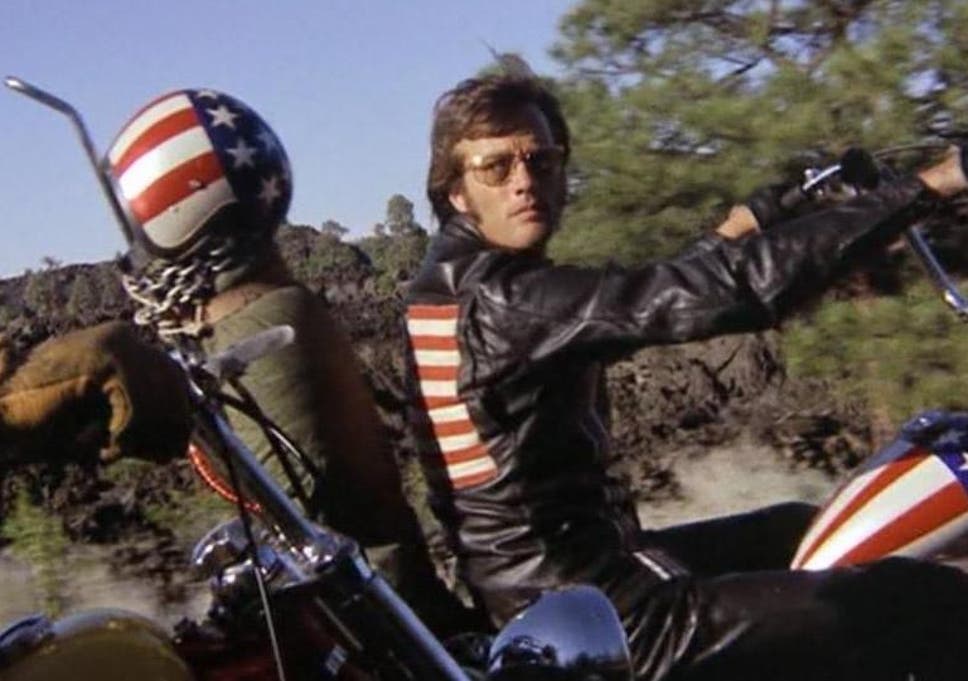 It was a career high which he would never reach again. After this Peter Fonda would make a series of films of which the best was 'Dirty Mary, Crazy Larry' & Race with the Devil'. The 70's would see him direct three films of which only his last 'Wanda Nevada' was of any interest as it was the only time that Peter Fonda appeared with his father albeit his father's role was rarely more than a cameo.
By the 1980's Peter Fonda was appearing in almost instantly forgettable films with only a knowing cameo as Chief Biker in 1981's The Cannonball Run being even remotely memorable. His chosen lifestyle had made him not an attractive option for many producers and he was reduced  to appearing in low budget independent films but by 1997 he pulled out the stops for 'Ulee's Gold' as a Vietnam vet beekeeper and it earned him a 2nd Oscar nomination (his first had been for Easy Rider's screenplay) ironically losing to his Easy Rider co-star Jack Nicholson although many commented that Peter Fonda was channelling his late fathers ticks and gestures in the film which served only to remind critics how much they missed Henry Fonda which is a little harsh. Peter Fonda had had a difficult relationship with his strict father having rebelled against everything Fonda Snr stood for whether it be drugs, a hippy lifestyle and even riding a Harley Davidson as soon as he got licence just to spite his father. It wasn't until he was 38 that his father was finally able to tell him how much he loved his son.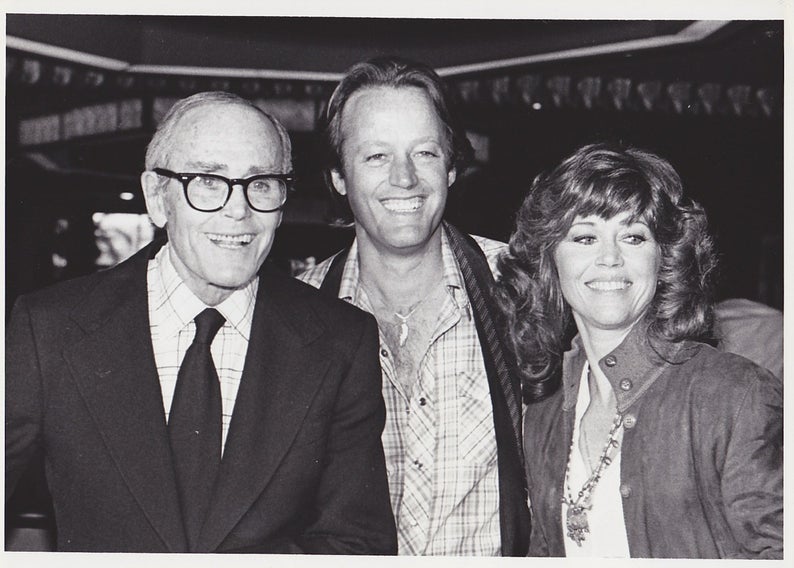 After Ulee's Gold it was only an appearance in Steven Soderburgh's 'The Limey' starring that other great star of the 60's, Terence Stamp who suspects that Fonda's record producer character had a role in the death of his daughter. After this Fonda would appear in a long line of minor supporting characters in films that took in 'Ghost Rider' , '3.10 to Yuma and TV series such as the Hawaii Five-O reboot.
Married three times Peter Fonda passed away aged 79 having contracted lung cancer