Now we can understand why women find Brad Pitt, George Clooney etc attractive but we never really understood the attraction of Rudolph Valentino. Nonetheless, during the silent era, he was a huge heartthrob.  Of Italian descent the sensuous Sicillian found fame in Hollywood where he started off in movies in 1914 working his way up from being an extra to leading man status which was cemented by his role in 1921's  'The Sheik'  a somewhat racially dubious film that would lead to a sequel five years later with, 'The Son of the Sheik '.
It was one of the most popular films from the silent era directed by George Fitzmaurice who at the time was of renown though his status has quickly diminished over the subsequent decades.  Son of the Sheik sees Valentino portray a cultured yet untamed man who is lured into a thieves trap by a beautiful dancer, Yasmin.  After escaping he kidnaps Yasmin and holds her captive in his desert lair dressing her in Arabic finery and threatening to unleash his violent passion upon her and ultimately their love story unfolds.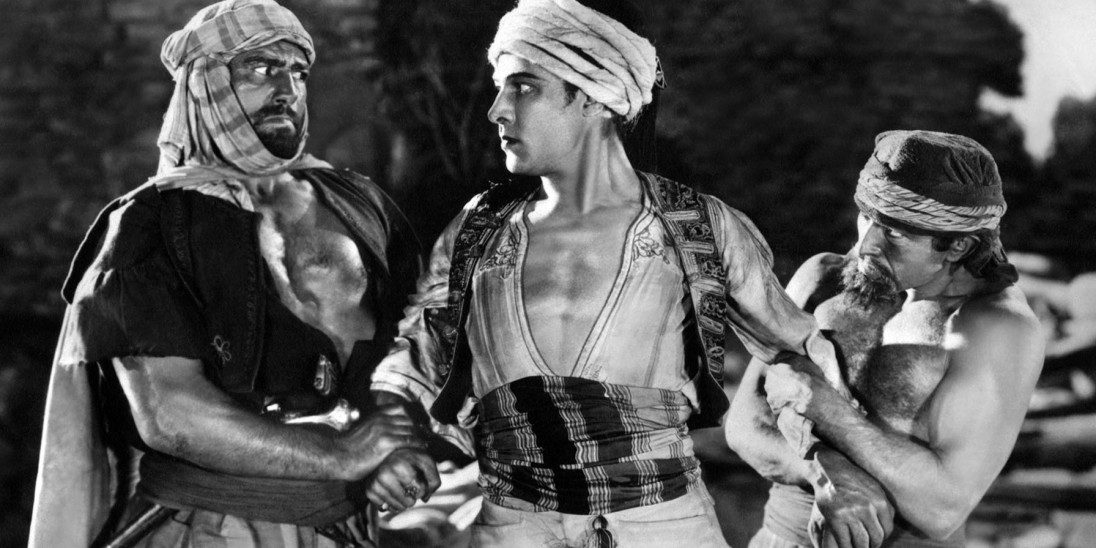 The appeal of Valentino can't  be underestimated. His female fan base was huge with fanzines dedicated to the clothes he had bought in Europe for the film but amongst US men there was a resentment towards him as, to them,  Valentino was not the all American macho man. He had been a dancer early in his career  and his appearance was ever so slightly effete making his sexuality slightly ambivalent and Son of the Sheik harnessed this to huge effect though the film's politics are suspect at best especially its racial politics where, despite an Arab cast of characters none were Arab actors. Son of the Sheik was arguably Valentino's best film but in reality he wasn't really an actor with his style more about maintaining a pose and ultimately is somewhat camp.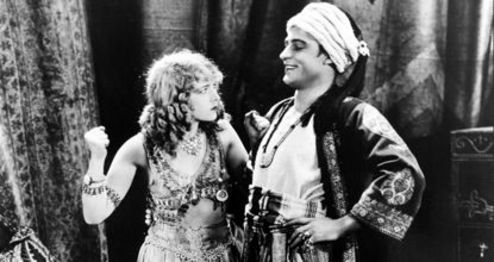 Son of the Sheik was a huge success but perhaps this was more to do with Valentino, at the age of only 31, dying shortly after an operation on an ulcer. His death occurred only days before Son of the Sheik premiered and audiences  flocked to see his last film as they would do for his funeral which saw tens of thousands of mourners causing a major public order incident in New York with 3 women committing suicide. As tragic as his death was it was doubtful whether his career would have continued with such success as the following year saw the advent of the talking picture with the release of The Jazz Singer and many silent stars careers would end almost overnight as parodied to brilliant effect in 'Singing in the Rain' whose story was based on such phenomena.
The film now has a decent transfer onto DVD / Blu Ray with a couple of decent extras including an introduction by the late Orson Welles in typically ponderous style. Better is a video essay by David Cairns with an insight into Valentino's career and a look behind the scenes of Son of the Sheik. Dated though it is Son of the Sheik is a glimpse into Valentino at the peak of is career.
He's the Son of the Sheik trailer…….
SON OF THE SHEIK IS OUT ON DVD ON 17TH FEBRUARY 2020