So it's the time of year when those Christmas pop classics start playing on a 24 hour loop in supermarkets to drive the staff berserk. And our Editor when he was first started dating his new wife caterwauled that old Wham classic to her, 'Last Christmas I gave you my heart ……' at which point she stopped to tell him, 'No, it was syphilis!' ('You're fired! – Ed).  Now the Christmas film season starts in earnest with Last Christmas written by double Oscar winning actress and screenwriter Emma Thompson whose written herself a plum supporting role as the Yugoslavian mother to Katarina delightfully played by Emilia Clarke insisting that her mother call her Kate.  Kate is a twentysomething wreck, an aspiring actress reduced to dressing as an elf to work in a year round Christmas shop owned by a Christmas loving owner Santa (Michelle Yeoh) in London's Covent Garden.
Kate's lack of career success is matched only by her disastrous personal life having been kicked out of her flat and refusing to stay at her parent's house she instead sofa surfs at friends until she quickly outstays her welcome usually due to a series minor accidents and drunken one night stands. It's only when she catches the eye of Tom (Henry Golding) outside her shop that her love life takes a step in the right direction. Charming, polite and handsome Tom is only too keen to make her acquaintance and even though the pair seem mismatched bit by bit she succumbs to him. Tom is not the boorish bloke even doing voluntary work for the homeless at a local church where she attempts to locate him only to find that no one there has heard of him. It's what makes Last Christmas not your usual Yuletide love story because this doesn't quite run the usual narrative tropes for this type of story and Thompson is a savvy writer with some very funny lines which she and her co-writer Bryony Kimmings throw into the mix along with Christmas lights, tinsel et al.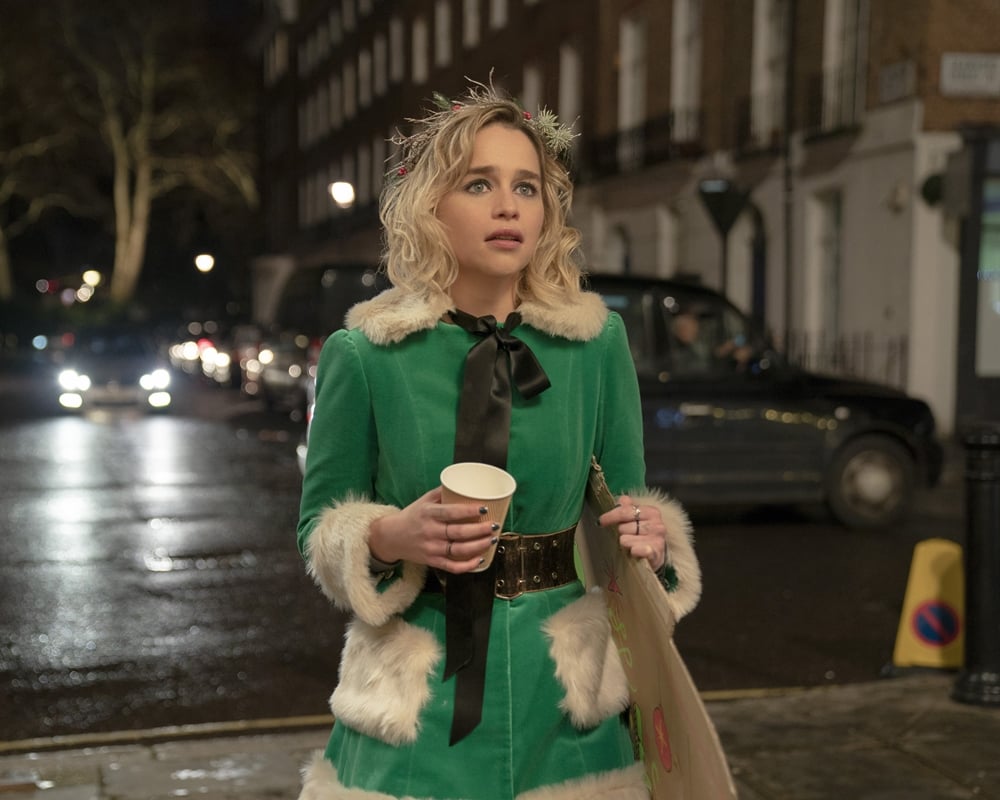 Like director  Paul Feig's previous films (Ghostbusters , Bridesmaids) this is very female-centric with Golding the only male role of any substance and he's not in the film as much as might be expected. That  this follows the current #TimesUp movement is no bad thing with a load of female roles to the fore –  notably Michelle Yeoh as the Christmas shop owner offering good support though her secondary love story with a shy customer is under developed but its Thompson as the heavily scanted Yugoslav mum that steals the supporting role.  It's not perfect.  Thompson, as seen at the Extinction Rebellion protest is a political animal so there are significant mentions of Brexit (albeit with one decent joke) which will quickly date the film if we ever leave the EU after what feels like 5000 years of negotiations and squabbling and there's a movie message moment at the end which is mercifully brief with a, 'together, we're all one ' speech by Clarke whose eyebrows for the first part of the film seem to have a life of their own.
Like this summer's Beatles inspired  film 'Yesterday ' this is titled after George Michael's festive tearjerker Last Christmas with the film's soundtrack from his back catalogue and it's a reminder of just how good many of his tunes were and his last recorded song , 'This is now….' plays over the end credits. After the box office bombs of Terminator Genysys  & Solo (which she was quite public about talking about its problems)  Clarke for one has a decent and likeably ditzy role here in a film that is destined to be a Christmas favourite and though it does make Christmas in London look lovely it never quite gives  Richard Curtis' 'Love Actually' a run for it's money. Now when are we going to get every supermarket employees nightmare,  a festive film for Wizzards' 'I wish it could be Christmas everyday ' –  with the soundtrack played on a loop 24/7?
Here's the Last Christmas trailer…….