Stan Lee came from inauspicious beginnings. Born Stanley Martin Lieber on December 28th 1922 he grew up in relative poverty with his Jewish Romanian immigrant parents.
Lee loved Errol Flynn movies and at school he wrote for his school magazine, the Magpie, but eventually graduated from DeWitt Clinton High School and left taking on a number of jobs that included lunch deliveries, selling newspaper subscriptions & theatre usher before joining a theatre project even appearing in a handful of stage shows but by 1939 at 18 years of age he began working at Timely Comics as the office runner earning $8 a week. Two years later he would write his first 2 page story synopsis 'The Traitors Revenge' and it was here that he first used the name Stan Lee before he became interim Editor when the publisher resigned. It would not be for long and Lee was enlisted into the army in 1942 writing training manuals and training films before returning to Timely again as the Editor.
The comic industry was on the verge of collapse in 1954 due to the Comics Code that had put an end to horror and crime comics. Lee became of Atlas comics and kept struggling on with their tame romantic adventures but he grew tired of churning out their tam stories and just as he was about to pack it in his wife Joan suggested that he write what he really wanted to write. It was the dawn of the Fantastic Four who were set in New York rather than fictional city such as Gotham.
This lasted for almost 20 years and by then DC comics was up and running with their iconic superheroes Batman et al. So along with artist Jack Kirby they launched their own superhero gang the Fantastic Four in 1961 for the Atlas company, which was now renamed as Marvel Comics, and soon after Lee's famous creations would follow firstly with the Hulk.  But it was Spiderman that revitalized Marvel. Lee worked closely with co-creators Jack Kirby and Steve Ditko and The Avengers would eventually follow appearing in 1963. Stan Lee created many of the characters with others but he often found that fans gave him sole credit for their creation much to the irritation of some of the other artists. These superheroes had personality as well as superpowers and many had their own personal problems which readers could identify with such as Spiderman fretting about dating a girl he liked.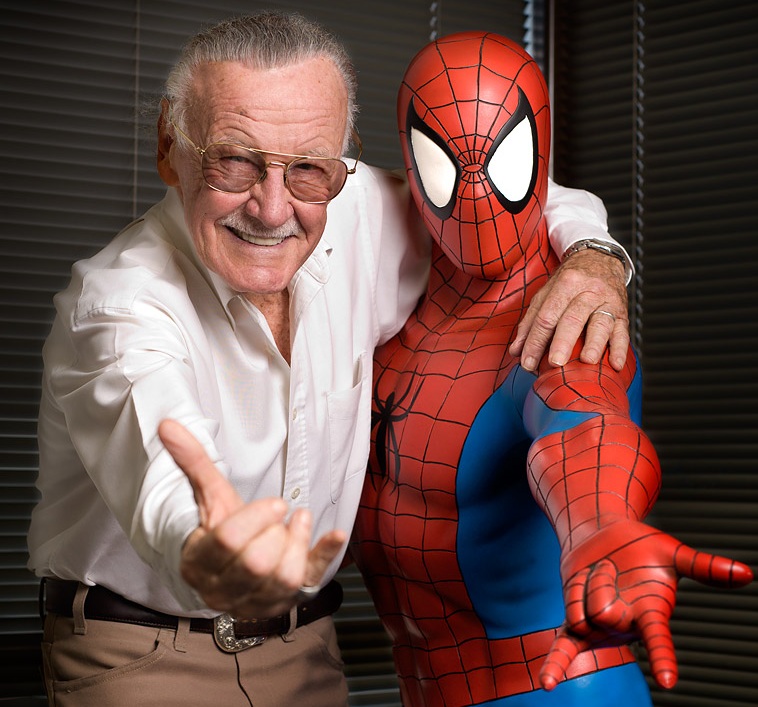 Iron Man one of the most popular characters in the movies was created to be hated being someone who invented military weapons benefitting financially from the Vietnam war but fans soon took to him.
The literati looked down on his work except for one notable exception Frederico Fellini who he met on a visit to New York and wanted to talk to Lee about nothing but Spiderman. At the other end of the spectrum bands like KISS sang his praises and Gene Simmons was persuaded to bleed into a vat of ink so that Lee, ever the showman,  could say the issues were published with his blood!
In 1972 Lee became the Marvel publisher (until 1996 when it went into liquidation) and left the role as Editor to focus on promoting the company moving to LA into a house on Sunset Strip in 1980 to set up an animation studio as a way into Hollywood . He was a great promoter for Marvel writing a 'Stan's Soapbox' feature in the comics from 1967 tackling various issues of the day hyping the Marvel brand calling fans, 'keepers of the flame' urging them to buy ever more issues and signing off with 'Excelsior!' By the 70's Marvel were pushing boundaries taking on issues of the day that included drugs and racism.
Though the Marvel characters became all conquering box office movies they first appeared on TV with Spiderman already having an animated series that ran from 1967 to 1970 with its iconic theme tune. Perhaps most famously was the Incredible Hulk's TV show with the late Bill Bixby and Lou Ferringo which ran from 1977 -82 to much acclaim.
By 1998 he launched his own company 'Stan Lee Media' with the company going public the following year. It was intended to tie up the comic with the internet and was employing 165 or more staff. It went spectacularly wrong and it soon went bankrupt in 2001 when it was found that the company partners had been rigging the stocks & shares and ended up with prison sentences. Lee was never charged and in 2002 he published his autobiography.
The last few years of Stan Lee's life were tumultuous. Joan, his wife of 69 years had died, he sued executives of POW! Entertainment that he had formed after Stan Lee Media had closed but he soon dropped the suit,  he sued his business manager and filed for a restraining  against another manager who had been handling his business affairs. What also came to light was that LA Police were investigating reports of him being a victim of elder abuse.
Despite the immense earnings of Marvel Lee was only thought to be worth up to $70m earning only an average $1m a year having been blighted with business wrangling and litigation from the collapse of Stan Lee Media.
The films when they began with the X-Men movies in 2000, the Spiderman films in 2002 and followed by Marvel's Phase One with Iron Man in 2008 became huge with box office getting bigger with every release with Lee putting in a cameo appearance in each film. In 2009 The Walt Disney Co bought Marvel Entertainment for $4billion,  a bargain when this years Avengers Infinity War made over $2billion.
Lee was adored by his fans and lamented that his failing eyesight meant to found it difficult to read but he loved his work and when asked by fans what the greatest superpower as he would reply, 'Luck is the greatest superpower, because if you have good luck then everything goes your way.'
In 1947 he married his beloved wife Joan, a hat model who he would be married to until she passed away in July 2017. Together they had two daughters one of which tragically died in infancy.
At 95 years of age Stan Lee died on 12th November 2018 at Cedars-Sinai Medical Center in Los Angeles where he had been admitted. Stan Lee had become as legendary as his stable of Marvel characters and leaves an insurmountable comic book catalogue.