The second installment in the Fantastic Beats franchise,The Crimes of Grindelwald, sees Johnny Depp once again plundering the dressing up box this time going for a 17th century Johnny Rotten channeling Marilyn Mansun look. Here he plays Grindelwald locked up in prison about to answer for his heinous crimes but there's scant chance him seeing the inside of court as Grindelwald escapes from his prison escort. The fact that he's being conveyed in a rickety flying carriage led by dragons makes Securicor's prisoner transport look competent.
With his Aryan hair and his quest for purebloods it's Grindelwald who is the cause of all the trouble with a back story that involves the young Professor Dumbledore (Jude Law) wearing his best tweed as opposed to the shambolic unmade bed look he later sports in the Harry Potter films. The pair of them are both have opposing  views to those of us who are not pureblood's and it's Grindelwald Messianic complex that wants to start a war with them.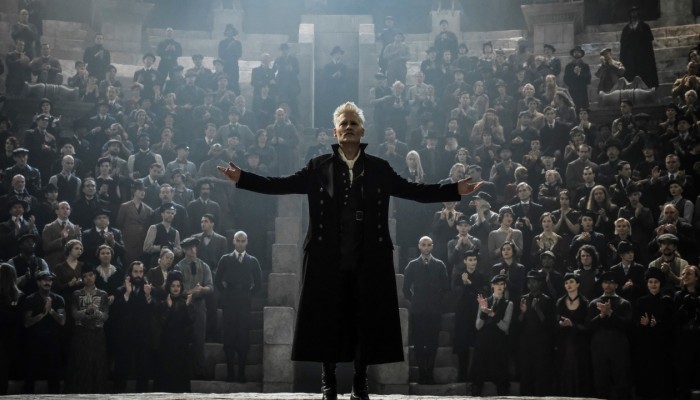 Returning from his jaunt in New York collecting his fantastic beasts is Newt (Eddie Redmayne) and is unexpectedly visited by Queenie (Alison Sudol) and Jacob (Dan Fogler) who are loved up. That is until Newt recognizes that Queenie has entranced him in a spell but for Newt it's his real love Tina who he misses but she's under  the impression that he's about to marry someone else and into all this is Newt's brother Theseus (Callum Turner). It all gets very confusing and its only 10 year old who could explain all the plot machinations but that's very much in keeping with the rest of the film because this is typically tied up with other story strands. It's Grindelwald though that is the instigator of all the shenanigans, drawing  others to him to wage his war against the rest of us taking in Credence Barebone (Ezra Miller) presumably because his name is open to all sorts of innuendo though the new name he gives bestows upon him is a clue to where this is all going.
The Crimes of Grindelwald is set in Paris rather than the first films New York and it's a testament to the mind of JK Rowling that she has conjured up a magical world and the film makers have again put together some endearingly cute creatures and fearsome freaks including a rampant Chinese dragon or at least the sort of thing you get clattering into you during the Chinese New Year street celebrations,   that Newt traps and trains unleashing it at appropriate times.  Like the previous film The Crimes of Grindelwald is another CGI fest of creatures and city scapes and is typically eye popping stuff that will entertain fans of the books but film is very much a scene setter for further films in the franchise with the setting up of characters taking sides and story strands setting up for future resolution and in that way it is a fun but frustrating ride.
Here's The Crimes of Grindelwald trailer…….
And her's the cast introducing the film with Ezra Miller getting increasingly more weird….