While the first film was busy racking up critical praise, fan love and record-setting ticket sales, director Andy Muschietti had already plunged headlong into early pre-production on the final chapter of what was always planned as a two-film telling of King's seminal novel about Pennywise and The Losers Club.
For Gary Dauberman, screenwriter of both "IT" and "IT Chapter Two," working on the big-screen adaptation of King's monolithic tome was pretty much an uninterrupted process. Dauberman attests, "We never really stopped tossing ideas back and forth and continuing the conversation we started on the first film, because I think we just wanted to keep carrying the momentum forward……… You always want the freedom to throw out an idea that might not work, because that idea may lead to one that does. Andy and Barbara understand that as well, and it makes the collaboration really comfortable and effortless in a lot of ways."
Barbara Muschietti—who produces along with Dan Lin and Roy Lee—adds, "The book is over 1,100 pages, and our first film covers maybe 300 of those. We understood that the conclusion was going to be a bigger story with twice the amount of characters: Losers as both kids and adults. But this film is much, much more in every way. Deeper. Better. Scarier. Epic.
In addition to adopting the novel's storytelling structure, Andy Muschietti increased the Stephen King quotient by including the novelist more directly. He says, "Stephen is very respectful of adaptations, and our communications with him started when we were nearly finished with the first chapter. We screened it for him, and he reacted very positively. I didn't want to let the chance go by without getting his thoughts for our second film."
The filmmakers had always been committed to incorporating The Losers Club and the underlying themes from King's book in the film. Says Barbara Muschietti , "The soul of Derry is even worse than it was 27 years ago at the time of 'IT.' The bigotry, hatred, the lack of empathy… This fog is everywhere, and residents don't see how bad it is. That's part of the spell. Leaving Derry, your memory of the town and your time there fades. But if you stay, your life is deadened, enveloped in this fog. Horrendous things occur, but they just don't register."
One such atrocious event is a watershed moment for both King and fans of the book, and filmmakers were intent upon its inclusion. Barbara Muschietti says, "Part of King's genius was to write about this hate crime within a setting as festive as a carnival. It was his way of reacting to an actual incident in Bangor, Maine. A lot of fans kept asking, 'Are you going to include the Adrian Mellon scene?' Of course, we were always going to. The sequence is jarring and very hard for the brain to comprehend—how humans can behave like this, attacking someone for whom he loves. Ultimately, it's essential to understanding Derry, how crazy and blind it is."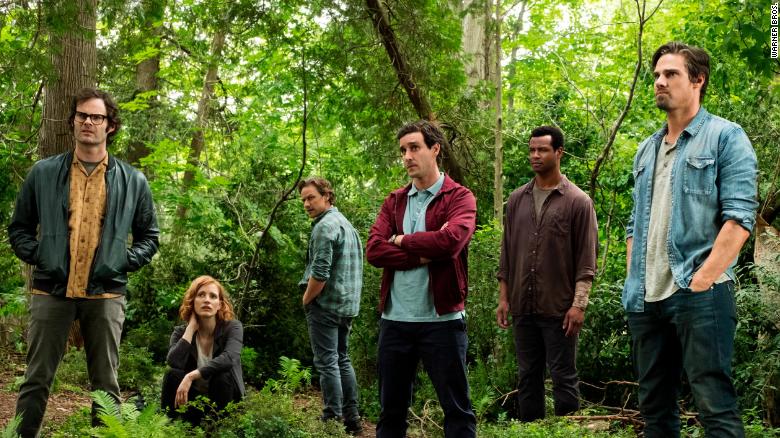 Even before the second chapter was officially announced, the casting of the adult Losers Club was a matter of intense media speculation, some of it fuelled by the conjecture of the young Losers Club actors themselves. As it actually turned out, the filmmakers had long been pondering their wish list of actors to play the grownups called back to Derry to fulfill their childhood blood oath.
Barbara Muschietti comments, "Even when we were casting the first film, we never stopped thinking about who the adults would be. There were always two conditions: one was that they obviously had to be great actors; and two, they really had to look like their young counterparts.'
James McAvoy came highly recommended for the role of Bill by Jessica Chastain. The two were shooting their second project together when the actress dropped a bomb into their conversation. McAvoy remembers, "We were having a nice chat, and 'IT' came up in the discussion. Jess said something like, 'Oh, Andy Muschietti's my friend. We did a film together.' She had my attention. Then she added, 'He wants me to be Beverly Marsh in the next one…um, would you be interested in playing Bill?' I don't think a second passed before I said, 'I will do that in a New York minute.' I got a call a few months later from Andy, and we FaceTimed. He made the case why he thought I'd be right for Bill, and he was really gracious and complimentary. Of course, I found out that he and Barbara are bloody lovely, two of the nicest I've ever worked for."
Jessica Chastain had flashed in the filmmakers' minds for the role of Beverly when young Sophia Lillis walked into the audition room in 2016 and was to be the only female memebr of The Losers Club. Chastain reveals, "Andy had been sending pictures of me next to Sophia, asking, 'What do you think in terms of resemblance?' When I watched the first film, I wanted to see whether it worked for me to play Beverly Marsh as an adult. I wanted to see who she was as a child in Andy's vision of it."
Joining the adult Losers Club was multi-hyphenate Bill Hader, and his journey to the part of Richie started somewhere near an interview microphone. Hader relates, "I had a couple of friends text me, because I'm not on social media. They said, 'Hey, do you know Finn, the kid from "Stranger Things?" He just said he wants you to play Richie in the next "IT" movie.' I thought, 'That's sweet, but it probably won't work out.' Then, my agent called me. 'There's this young actor named Finn, and he's in the "IT" movie. Apparently, he recommended you to play the older version of him.' I thought, 'Oh, okay.' Then my agent said, 'You're going to be having lunch with Andy Muschietti, the director.' Like, what? this worked? I met Andy, and he said, 'You know, the reason we are here is because Finn wants you to play Richie.' And so, the whole reason I'm in 'IT Chapter Two' is because Finn gave an interview and everyone ran with it. Clearly, I need to pay more attention to the internet."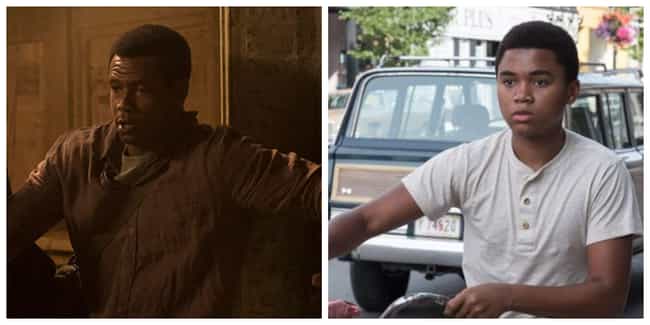 Isaiah Mustafa, who plays The Losers Club Mike, showed his own commitment to the process during the months of casting, repeatedly flying between Toronto and Los Angeles. After multiple auditions over four months, the filmmakers wanted to see him one last time—only the request came five hours before he was to leave town for his wedding. With the blessing of his bride-to-be, he delayed his flight a day, read his last time for the part and flew off for the ceremony the following day with an early wedding present—the role of Mike Hanlon.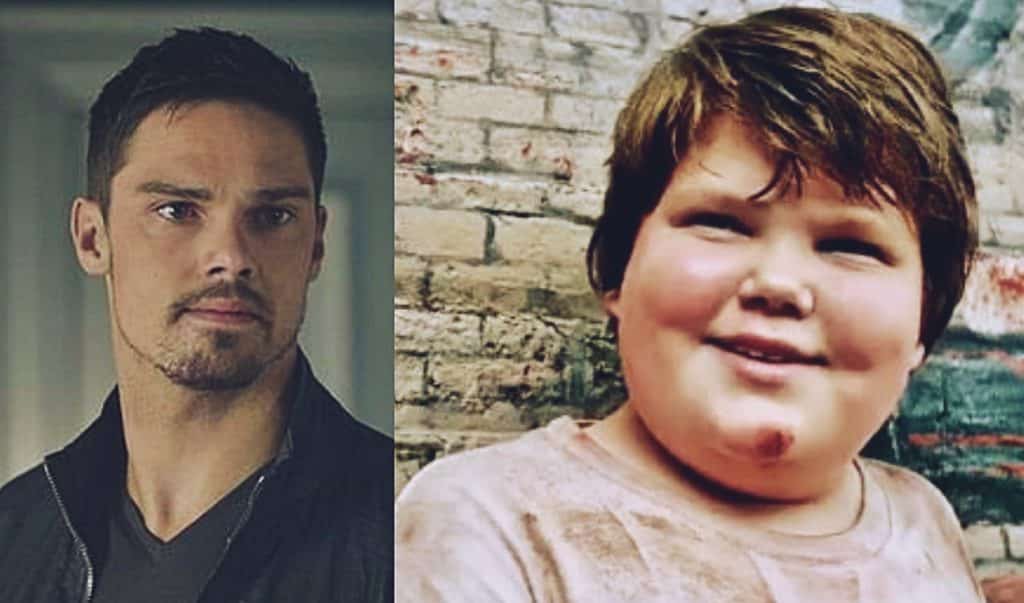 While Jay Ryan was vying for the part of Ben, he received a particular call from his agent, who had a slightly unusual request. Ryan says, "They asked me for a picture of myself when I was around 11. They wanted to see how much I resembled Jeremy Ray Taylor, which I really did, growing up. I really connected to the young Ben at that same age in the book. I think a lot of us grow up with some insecurity from childhood, the main one being, is this person going to like me? Am I going to make a good impression? To see someone go through that and then overcome that fear incrementally, and become successful in spite of it, is admirable. I wanted to do that justice. But, even though he's successful at his business, there's this inability to really connect with anyone. He's a loner with a thriving firm and a big home…and a dog. I had them add that, because I wanted him to have something." Ryan, oddly enough, held a job as a clown when he was a teenager, performing magic in his native New Zealand, and "creating balloon animals for screaming kids in supermarkets. I can still make a great teddy bear."
Barbara Muschietti surmised that James Ransone and Jack Dylan Grazer, the newly cast older and younger versions of Eddie in child and adult Losers Club, "with the speed at which they talk and think, and their physical resemblance to each other, they must just be the same person…we joked that when they met, they would both probably combust." They didn't, but they did immediately form a mutual admiration society, with Ransone becoming a mentor to Grazer.
The script for It Chapter Two  required the return of the young Losers Club …….who, by then, not as young by three years. Barbara Muschietti acknowledges, "Physically, most of them changed quite radically, and we knew we were going to employ some de-aging techniques for the flashbacks.
After filming "IT," the teen actors in The Losers Club had kept in regular contact. Finn Wolfhard, who returns as Richie, remembers, "We'd heard rumors, mostly from each other, that they were going to bring us back. We later went for dinner with Andy and Barbara, and they confirmed that we would be a part of the second movie, without much specifics. Then, one of us would see Andy, who'd mention a scene that we were going to be in, and that got around. We were piecing it together, really, until we got the official email.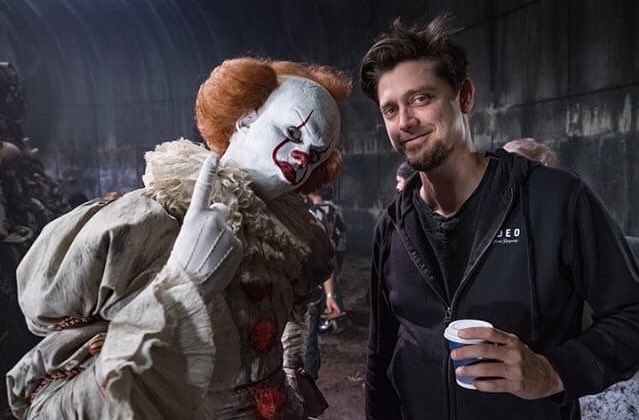 Once Skarsgård and Andy Muschietti began to collaborate on Pennywise well before shooting began on "IT," the actor and director never stopped conversations about the character and how he would figure into both chapters. Many of these nascent ideas later showed up in Dauberman's screenplays for the films. With regard to his time away from performing the character, Skarsgård says, "I was in L.A. for an unrelated reason, and Andy wanted me to do a test for some of the performance capture that would be used for the new film. It was months before we were to start shooting. I thought I'd basically be in a chair, just sort of going through it, but it was a full scene from the screenplay. I show up, and then Andy says, 'Action!' And Pennywise was right there. I guess he hadn't really gone away and he just exploded out of me—even more disturbing, without the makeup. I was really shocked at how much of him remained, and how continuing to work on him developed the character even more.
So now It Chapter Two is released  (read our review here) and below are the director, producer, and Losers Club actors James McAvoy , Jessica Chastain as well as Pennywise himself, Bill Skarsgard talking about the film at the premiere here…….