Diana Rigg will always be associated with cult TV series The Avengers as an independently minded secret agent clad in a black leather jumpsuit yet at the same time she was one of the founding members of the Royal Shakespeare Company
Born Enid Diana Elizabeth Rigg in Doncaster on 20th July 1938 she went on to spend the first eight years of her life India where her father took the family whilst he worked there as a railway engineer returning to Leeds in 1945 and her father joining them three years later. Having spent her early years in India she was able to speak Hindi as well as English and attended boarding school showing a flair for acting and ultimately landing a place in RADA. Having graduated in 1957 she appeared in a number of theatre roles including one in Stratford in 1959 where Peter Hall was about to launch the RSC the following year.
Diana Rigg was one of a number of actors including Judi Dench, Ian Richardson & Ian Holm who would also become part of the RSC and go on to great acclaim as their careers progressed. 1965 saw her land her role as Emma Peel opposite Patrick McNee taking over from Honor Blackman who had left to play Pussy Galore in Goldfinger. The role really bought her to international public attention but when she found she was earning less than the camera crew she took on the producers for an increase in her salary and won.
After three series she left in 1967 to returned theatre appearing in an eclectic variety of stage plays that included The Misanthrope, Macbeth & Pygmalion. During this period she also appeared in the Bond film, 'On Her Majesty's Secret Service '(1969) which had a number of firsts. The first and only time that George Lazenby played 007 (and which Rigg is rumoured to have eaten garlic whenever they had a love scene) and also the first time (to date) that Bond married.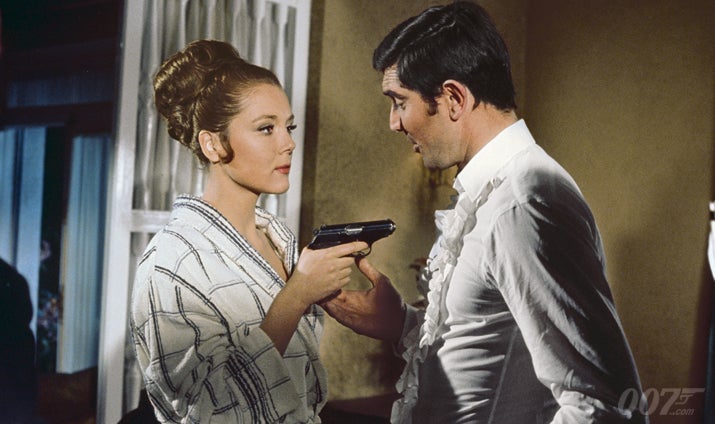 Her screen work had a number of memorable films including Theatre of Blood opposite Vincent Price, the film adaptation of Agatha Christie's 'Evil under the Sun' with its all star cast and bizarrely even 'The Great Muppet Caper'. But she also appeared in far more TV productions probably most notable being a cameo in Ricky Gervais / Stephen Merchant's 'Extras' but renewed her TV stardom as the almost Shakespearean Lady Olenna Tyrell in Games of Thrones from 2013 – 2017 after which she underwent heart surgery (her 20 a day cigarette habit hardly helped) telling people that God must have said, "Send the old bag down again, I'm not having her yet''. Her last film role will be in Edgar Wright's, 'Last Night in Soho' to be released in 2021
She had lived for some years in a chateau in a village south of Bordeaux in France and was chancellor of Stirling University for 10 years from 1997 writing two books – 'No Turn Unstoned'  a collection of scathing reviews and a second an anthology of poetry. She was appointed CBE in 1988 and made a Dame in 1994. Diana Rigg had a long relationship with the television director Phillip Saville but in 1973 Rigg married the Israeli artist Menachem Gueffen. It lasted only for three years divorcing in 1976 and in 1982 she married Archie Stirling, a former army officer who became a theatre producer and had a daughter Rachel. By 1990 she was divorcing him when she found Stirling was having an affair with Joely Richardson. Rigg took his suits to the nearest Oxfam shop.
For such an acclaimed actress she was nominated once for Golden Globe in 1971 and multiple Emmy nominations and yet was never nominated for an Oscar instead  winning a special BAFTA award in 2000 to add to her Best Actress award in 1990 for BBC drama 'Mother Love'.
A devout Christian she died from cancer on 10th September 2020 aged 82