Don't Look Now is probably one of the most important and influential British films of the 1970's. Directed by the late Nicolas Roeg it was his third film and was an adaptation of a Daphne Du Maurier novel adapted by Allan Scott. Her novels were popular among directors notably Hitchcock who had made versions of Rebecca (an Oscar winner), The Birds and for him an uncharacteristic period film, Jamaica Inn. Don't Look Now was a short story barely long enough to call a novel and its story of a married  couple played by Donald Sutherland and Julie Christie grieving the death of their young daughter whilst in Venice where they encounter a pair of elderly sisters one of which is psychic and has a warning for them.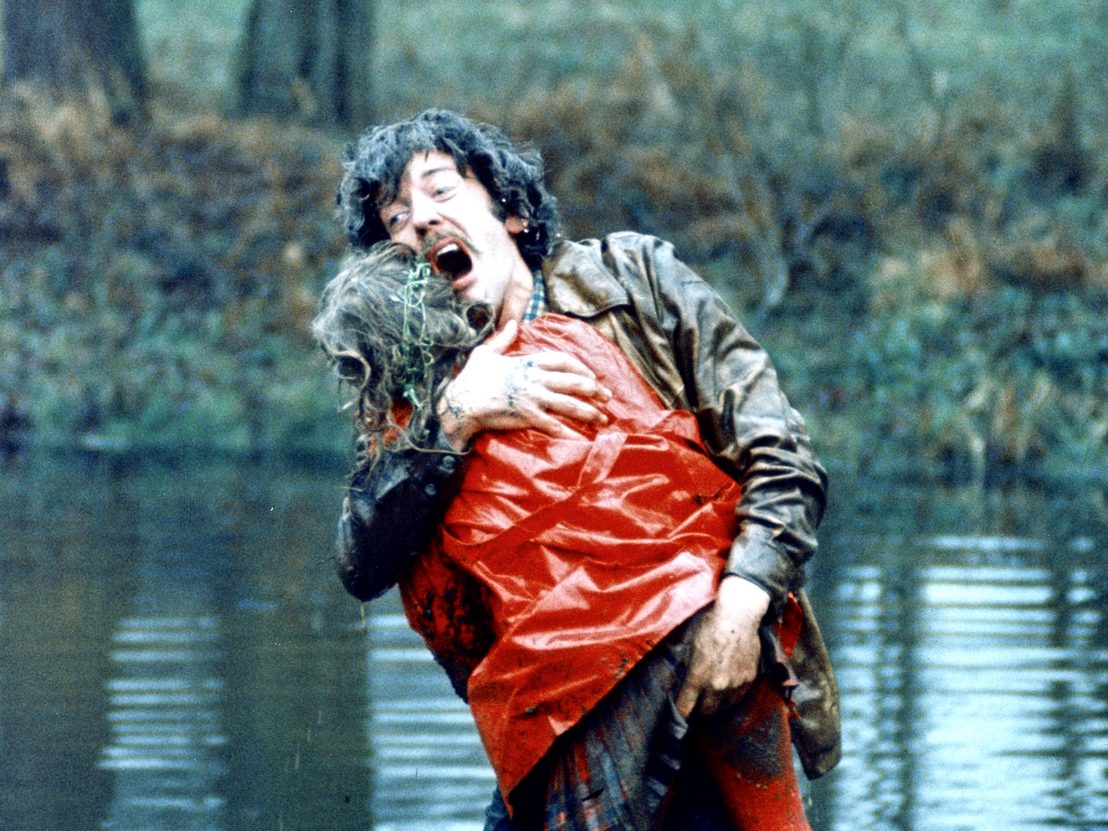 The film differed from the novel most notably with the death of the child which in the book has already happened but in the film is featured in an almost unbearably traumatic scene with Sutherland trying to save his little girl from having drowned in a garden pond – in fact the real life father of the child in the film who was on set during filming couldn't stop himself from jumping into the pond during every take. For any parent it's a gut wrenchingly upsetting scene with a devastated Sutherland clutching his drowned daughter in her red coat. It's the colour red that Roeg uses to brilliant effect throughout stripping the film of the colour making its appearance striking when it does appear in important scenes where having gone to Venice Sutherland starts seeing what he believes is his daughter running around the alleys and canalways of the city which builds to a devastating climax.
Roeg's design for Don't Look Now is superb with water an important theme throughout the film. With the daughter having drowned in a pond the move to the canal riddled city of Venice is ominous with death and near death experiences never far away  – a woman's body is dragged from a canal, Sutherlands' character  has a near fatal accident. Water = Death. Roeg's Venice is creepy and dank and apart from a few scenes on the Grand Canal the crew shot the film off the beaten track in places never usually seen.
Don't Look Now has so many great moments but probably the other scene which achieve a degree of notoriety was the love scene between Sutherland and Julie Christie. An unashamedly graphic scene for such a film of the day it is, in context of the story, a remarkably tender scene of a married couple trying to retrieve a lost relationship that's taken a body blow after the death of their only child. Shot in less than two hours the actors, director and camera operator only shot it in a hotel room and  edited the scene in a unique style that cuts back and fore between the couple making love to the down to earth hum drum monotony of getting dressed afterwards. It couldn't be less titillating. …..and with the rumours persisting to this day…….No, neither actors did it for real!
Roeg as a former cinematographer (he famously fell out with David Lean on Dr Zhivago) had a great eye for composition and like many DoP's lighting was everything but as a director his shooting style was almost freeform – picking up shots where they could in Venice and shooting in an almost hit and run style.
Don't Look Now is Roeg at his peak – brilliant and essential viewing which has been given a suitably lavish treatment with a huge array of bonus features wholly deserving of such a film. There's a new documentary with a host of respected directors (Cronenberg, Danny Boyle, Brad Bird) talking openly about their admiration of the film and its influence on their careers. There's also a host of standalone interviews with Donald Sutherland, composer Pino Donaggio, screenwriter Allan Scott and DoP Tony Richard (who won a BAFTA for the film). Though Roeg is no longer with us there is a commentary from him and there's a feature on the use of colour in the film as well as lobby cards, poster an a booklet.
This blu ray edition of Don't Look Now is both essential viewing and an essential addition to anyone serious about film
Here's the Don't Look Now trailer……..