Fighting with my Family a true story about real life British female wrestler Paige was sure to appeal to our Editor. The fishnet tights, the gothic make up, the black nail varnish……. are just some of the things he wears when he goes along to watch WWE ('You're fired!' – Ed). Written and directed by comedy genius Stephen Merchant he's also roped in ex-WWE wrestler and now biggest film star in the world Dwayne The Rock' Johnson. It's a friendship that goes back to 2010's film 'Tooth Fairy' that they starred in so Johnson's insight into the world of pantomime fighting as well as his brief appearance in the film is invaluable.
Based in Norwich it has Ricky Knight (Nick Frost) a former criminal who found salvation in a love of wrestling with his now wife Julia (Lena Headey) and between them they imbue their interest to their kids, one of which is banged up in prison but the other two, Zak (Jack Lowden) and Saraya (Florence Pugh), take it up and take part in their parents ropey makeshift travelling wrestling road show. They barely scrape a living with Ricky constantly threatening to return to crime to make ends meet and for Zak who is about to become a father the pressure is on to make a decent living as a wrestler.
His opportunity comes with a telephone call from a WWE representative inviting them to audition in London for a placement in their major league school of wrestling training Stateside. So both Zak and Saraya, having renamed herself with the stage name Paige, trot off down there to audition. For Zak, with a baby on the way, it's everything and to his devastation it's him who is overlooked in preference for his sister Paige. In fact she's the only one that's picked and at only 18 years of age she's zipped off to the US where she meets with 3 other women who instantly put her on the backfoot as they are far more glamorous than she is but also unlike her they've not wrestled but use it as an opportunity to make some big money having earned little as models and cheerleaders previously.
Presiding over all of this is Vince Vaughn as the talent spotter and waspish trainer determined  to pluck out anyone who's not got what it takes to join his stable of wrestling stars. For Vaughn it's both a sideways step as well as a step up because goodness only knows he needed to get away from those weak slacker comedies too numerous to mention and at least he's got some decent lines and character in this which rises far above dreck like The Internship although it's a slight disappointment to see him move away from the brilliantly brutal role he played in Brawl in Cell Block 99.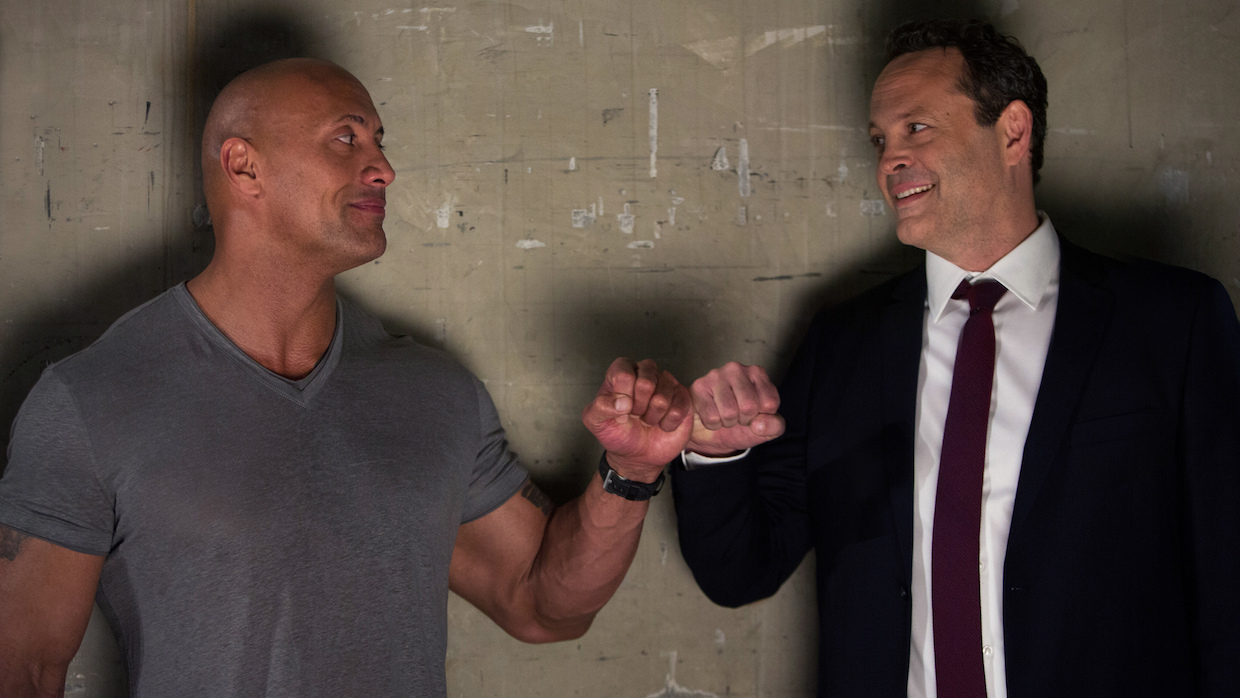 Merchant's Fighting with my Family script has some decent gags with some typically amusing moments notably when Zak's pregnant girlfriend's middle class parents visit the typically working class family. Played by Stephen Merchant and Julia Davis it's very funny with both of them expertly able to draw laughs from just a look and though Merchant is well established now Julia Davis is a respected comedy performer who deserves to be a much bigger star.
Fighting with my family has the standard tropes for this type of drama with Paige almost giving up with so many obstacles to overcome and constantly insecure about whether she's got it when it culminates in a title fight against a stumpy tango tanned champion who frankly looks like she's on day release from Willy Wonka's factory. Merchant has assembled a decent ensemble cast and Pugh, who was in The Commuter with Liam Neeson, is great in the role although unlike all female wrestlers and the real life Paige she steers clear of the spangly PVC outfits they wear. Vaughn and Johnson should sell this for the US audience and Nick Frost and Lena Headey already have an assured fan base along with Stephen Merchant who himself has broadened out into straight roles with Logan and the  recent Dragon tattoo film, The Girl in the Spiders Web.
Here's the Fighting with my Family trailer…..