Like many classic films High Noon had a difficult production and wasn't well received. Initially the idea for the film began in 1947 about a lone lawman fighting against a gang of outlaws but was similar to another short story 'The Tin Star' by John W Cunningham and to avoid copyright issues the producers bought up the rights. Screenwriter Carl Foreman began work on the script and once completed director Joseph Losey was hired but soon left after frightened off by the story being perceived as a pro-McCarthyism who at the time had started up his investigations into the House of Un American activities. Losey wasn't the only one put off by the script with many of the studios finding it too dark and several major stars turning down the lead role including Marlon Brando, Charlton Heston and Kirk Douglas.
High Noon was the story of small town marshall Will Kane (eventually played by Gary Cooper) about to retire and leave town with his young bride Amy (Grace Kelly in her first starring role). All of this is put on hold with the realization that an outlaw and his brutal gang are on their way to the town…. a gang that Will had locked up previously. Unfolding in real time High Noon follows Will as he desperately attempts to assemble a posse  but soon  finds the townspeople unwilling to help. Even his new wife, a Quaker pacifist, wants him to avoid the inevitable violence that will occur once the gang arrive in town, but as High Noon approaches Will realises he must do the moral thing with or without help.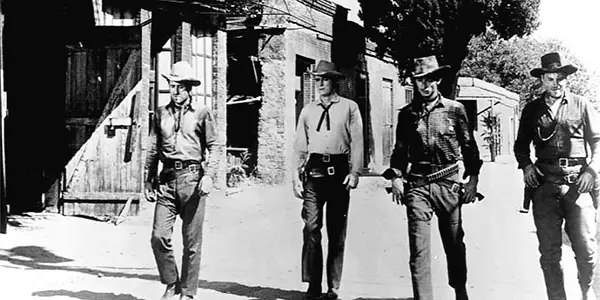 It was immigrant Fred Zinnemann an Austrian Jew who had escaped from Europe during the second World War and  who took up the directors reins identifying with the story of a lone man pitted against a seemingly overwhelming and unstoppable force. Zinneman had always been attracted to human conflict stories as would be seen in his later films that included 'From Here to Eternity' & 'A Man for All Seasons' but at this point his name was not one that was a draw and the producers had to scrabble together the last third of the budget which was low anyway at only $730,000.
With no major star taking the lead role it was offered to Gary Cooper who by 1952 found his star was fading and wasn't helped by the two consecutive flop films he had appeared in. It put him in a position where he agreed to the role but would have to take a big cut in his normal salary in return for percentage points at the back end if the film made money when it was released. It was great casting because it would be the role that he would forever be associated with a performance that had him always putting on a brave face for the townspeople yet privately scared that he was facing imminent death even going as far as to prepare his will minutes before he has to face the gang.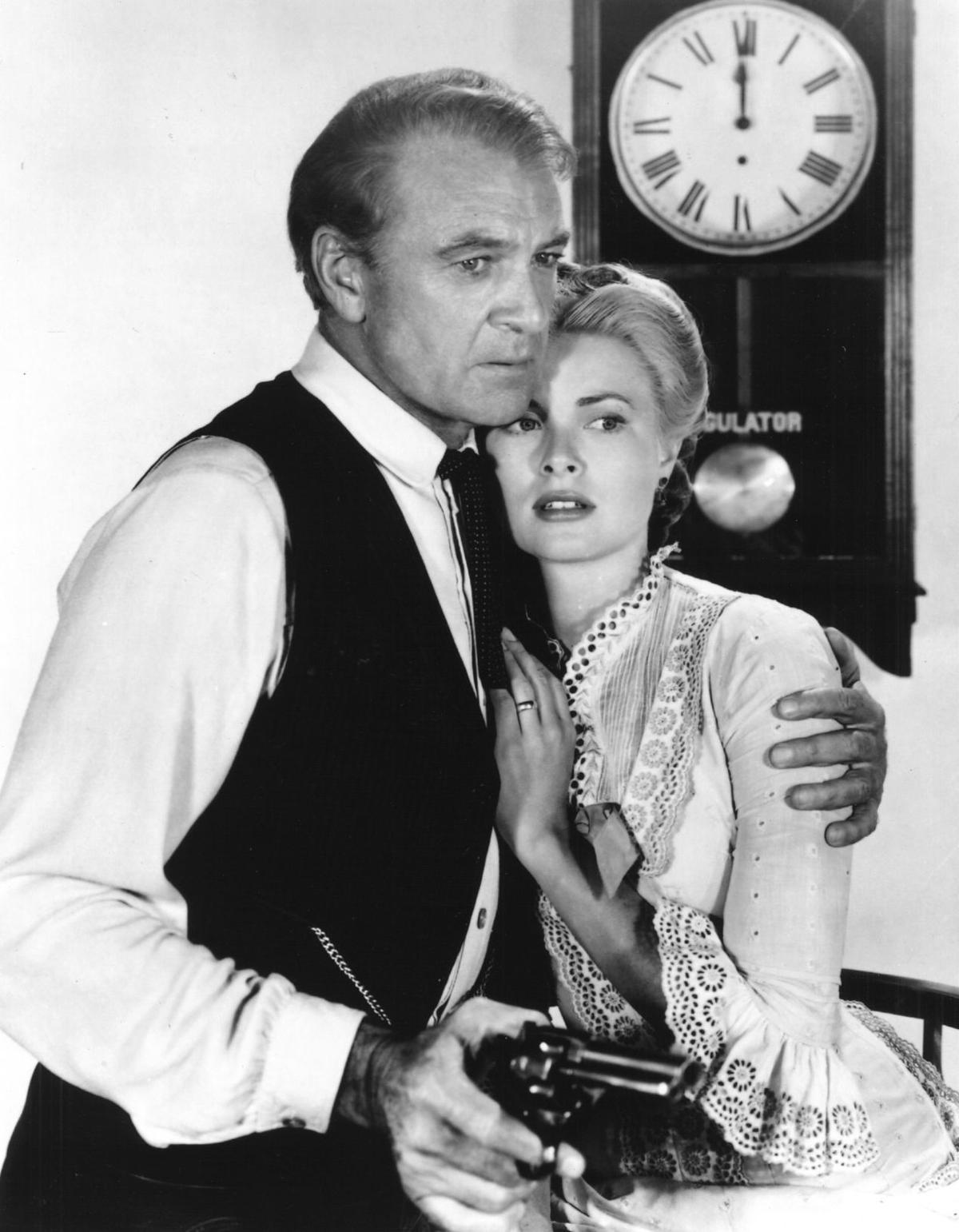 With its low budget the schedule was tight, shooting in only four weeks and the film unfolds in real time with the tension increasing minute by minute as the clock counts down to the climactic moment of High Noon when all hell will break lose.  Yet John Wayne , who had also been offered the role, disliked the film intensely and so did director Howard Hawks who hated it so much he went out and made 'Rio Bravo' with Wayne to counteract what he regarded was UnAmerican representation of the western film.
They were wrong though. High Noon was progressive in several ways most notably in its portrayal of women in this case Helen Ramiriez (played by Katy Jurado) a strong willed Mexican business woman who ran her own saloon and who the script wouldn't be killing off. It was an unusual role for such a male dominated genre where women, especially from an ethnic minority,  were nearly always secondary and in an era of #TimesUp is even more relevant today.
The film courted further controversy when writer Carl Foreman was hauled before senator Joe McCarthy and his clan part way through the shoot and the committee demanded that he get no screen credit. It was Gary Cooper, echoing his role in the film, that stood up for him threatening to walk off the film if this happened. For Foreman though he'd had enough but continued to write equally great films notably the magnificent 'The Bridge on the River Kwai' as well as the brilliant boys own actioner 'The Guns of Navarone' (surely ripe for a remake).  Despite the perception of the film by Wayne and Hawks, 'High Noon' went on to receive seven Oscar nominations  winning four (Cooper won his first Oscar for the role) though notably not Best Film which Hollywood politics decreed would go to the vanilla and forgotten, 'The Greatest Show on Earth' . With its central theme of standing up against what's wrong it became a favourite amongst several US Presidents notably Ronald Reagan but also somewhat ironically the morally challenged adulterer Bill Clinton.
The disc has a load of really great bonus features that includes several decent 'making of's' as well as a couple of commentaries by historians and experts which give an insight into the film. There's also a rare interview with the late Carl Foreman at the National Film Theatre in London as well as the inevitable trailer. If Westerns are your thing then this is a must have disc and there's a limited edition 100 page collectors book which features the short story 'The Tin Star' as well as archival articles and interviews
High Noon remains one of the best westerns ever made in a genre that has fallen out of favour over the past few decades with perhaps Clint Eastwood's 'Unforgiven' being the last truly great film but this is an essential addition to any film fans collection.
Here's the High Noon trailer…….
HIGH NOON IS RELEASED ON BLU / DVD ON 23rd SEPTEMBER 2019