Hollywood is littered with stories of overriding ambition taking down careers usually the directors. For Francis Ford Coppola it was 'One from the Heart' which sent his beloved Zoetrope studio into bankruptcy and for Michael Cimino it was Heaven's Gate which bought the down fall of the studio. Coppola recovered but Cimino never did. For director Richard Kelly it could have gone either way with his third feature film, ' Southland Tales ' out on blu-ray.
Kelly had made probably the premier cult film of the Noughties with 'Donnie Darko' a script that had gone round the studios with them all liking it but none wanting to stump up the cash and as a way of relieving his anxiety Kelly started writing Southland Tales. That he started writing it around the time of 9/11 atrocity only compounded his self admitted liberal Democrat sensibility and Southland Tales would be a film about the end of the world taking in his concerns about US Homeland security and the War on Terror with Kelly regarding the US as tearing itself apart and ironically 20 years later little seems to have changed on that front.
Southland Tales would follow three characters:  an action star with amensia, a porn star developing her own TV project and a cop with the key to a conspiracy all set  during a 3 day heatwave  in the run up to the 4th July. In several of the excellent bonus featurettes on the disc the actors describe it in turn as a satire, a love story, a comedy, a sci-fi film and as actor Shawn Wallace explains, 'it all fits together in this dream world'. Audiences would disagree as would critics. Kelly had assembelled a diverse cast and the three lead roles were played by Dwayne Johnson who had proved that despite his WWF background he could act as seen when he played a gay Samoan bodyguard in 'Be Cool' to great effect.
Sarah Michelle Gellar was ken to shake her Buffy the Vampire slayer image and took the porn star role whereas Sean William Scott was firmly esconsed on the public's mind as the gross Stiffler in the American Pie franchise and would take the straight lead dramatic role of the cop. Kelly had surrounded them with an eclectic cast that included Janeane Garofalo, Christopher Lambert, Jon Lovitz, Mandy Moore, Amy Poehler, Miranda Richardson, Wallace Shawn, Zelda Rubinstein, Justin Timberlake and Kevin Smith. It was a conscious and bold move to cast those actors he felt had been pigeonholed and all are good in their roles.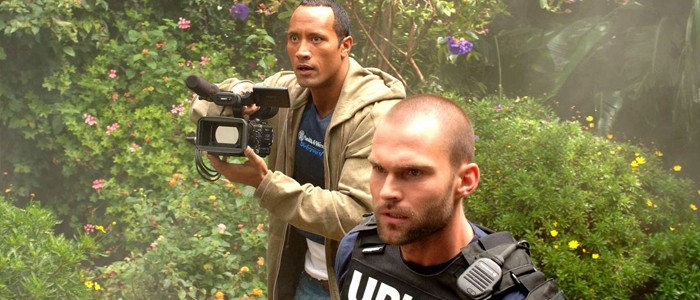 After the critical success of Donnie Darko there was a huge expectation for his follow up film with Cannes asking for it to be shown in competition at the festival even though it would not be ready. But it had never harmed Coppola's Apocalypse Now which has taken a few years to cut and was still not finished when shown incomplete at the festival winning the Palme D'or. It's this Cannes cut of 160 minutes that is here on the 1st of the two disc blu-ray release. It would be fair to say that the films screening did not go down well and respected critic Roger Ebert was scathing in his review of the film. The film had been optioned by Universal Studios but after the fallout from Cannes the studio sold part of the international rights to Sony with Kelly seeking more finance so as to finish the visual effects which was agreed on in exchange for cutting the films length by 15 minutes which he agreed to. Unfortunately it made the film , whose narrative became more obtuse as the film went on, almost incomprehensible.
The blu ray for Southland Tales is from Arrow whose reputation for loading their discs with great bonus features continues here with a load of excellent features , some archive from previous releases of the film and some brand new. Though the film very much over reaches itself for which only Kelly is responsible and rather telling that in one of the featurette's  actor Jon Lovitz admits that, 'I've never been in a movie where I didn't understand the story' and that fellow actor Curtis Armstrong adds, ' My agent was in tears because she could not make heads or tails of it. It was impenetrable!'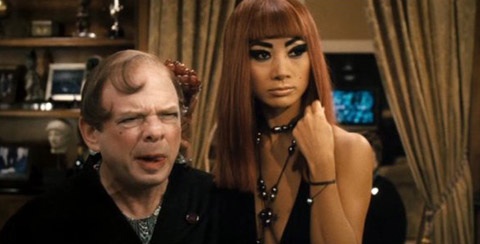 But there's aplenty to admire in Southland Tales which is brimming with ideas and visuals that go some way to make up for its increasingly incomprehensible plot. Moby's sound track is suitably haunting, Alex Hammond's production design is stunning especially on such a limited budget but it meant the film had little spare time to shoot scenes with  practical effects and stunts needing to work first time as there was no time to reshoot anything. Yet at the same time Kelly throws in a song and dance number with Justin Timberlake shot in just a few hours.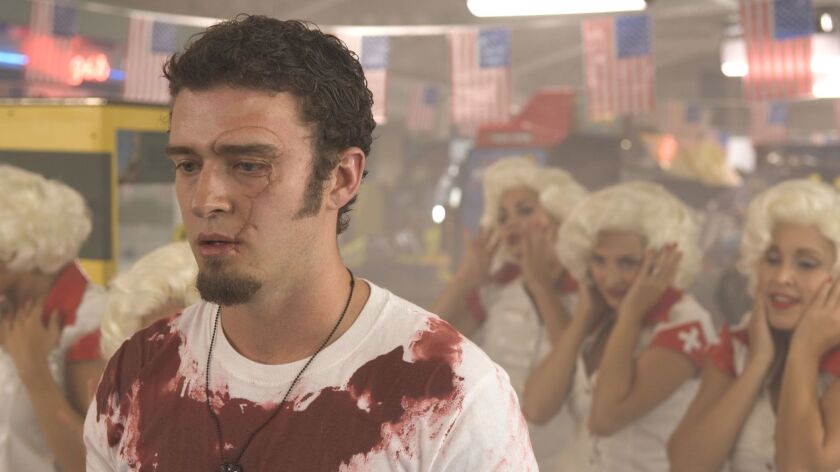 If ever a film needed a director's commentary then Southland Tales is it and Richard Kelly is effusive as he explains what he was trying to achieve and problems he encountered and it's the essential bonus feature of all that appears on the blu-ray. A couple of featurettes about the film giving an insight into what Kelly was up against and perhaps also why he stumbled too. The two disc set has both versions of the film and there's the usual trailer and stills as well as an animated short explaining a little of the story's back ground and origin.
Southland Tales performed badly at the box office earning only $374,743 from its $17m budget and it would be four years before he made another film in 2009 since when he has not directed. It's a great shame because Richard Kelly's films all have great ideas but if, like his friend Kevin Smith has said, he allowed a studio to take him under its wing like Christopher Nolan at Warners then he has the potential to produce something truly astonishing. Southland Tales gives a glimpse as to what could be.
Here's the Southland Tales trailer…….