Many will not have heard of Sergio Corbucci and his Django films but inevitably Quentin Tarantino has and he drew inspiration from those films as well as Sergio Leone for his own Django spaghetti western film. Most of them drew on the template of  autumnal or winter settings and  bleak (Italian) locations and so we had Django, Prepare a Coffin (1968), Django the Bastard (1969) and One Damn Day at Dawn…Django meets Sartana (1970), and also Today it's Me…Tomorrow You! (1968), The Man Who Cried for Revenge (1968), No Room to Die (1969), The Unholy Four (1970 – Chuck Moll) and Shango (1970). The Specialists was in a similar vein. Sergio Corbucci's made in total 13 spaghetti westerns but The Specialists is different from the others and was the final part of a 'Mud & Blood' trilogy after Django and The Great Silence (1968). It features, a lone man up against seemingly impossible odds and starred  the late French pop-rock singer Johnny Hallyday (as near to Elvis as the French ever got) who played The Great Hud, an gunfighter protected with a bulletproof chainmail vest that made for some bonkers scenes of mayhem.
The Specialists follows gunman Hud Dixon to his hometown in Nevada, to find out who lynched his brother, Charlie who had had been accused of stealing half a million dollars from the Pollicut Bank and the money is still AWOL. The town is weapon-free, because of the pacifist sheriff (Gastone Moschin) who would rather go fishing than keep the peace and it's left Hud who sets out to find the money. To that end he finds himself up against the sadistic Boot Johnson (Serge Marquand), a flirty banker's widow, Virginia Pollicut (Françoise Fabian), some treacherous townsfolk and four pot head hippies from Dallas – Rosencrantz (Andres Jose Cruz), Apache (Gabriella Tavernese), Kit (Stefano Cattarossi) and Buddy (Christian Belaygue) – who plan to take over the town during the unrest. Added to this is El Diablo (Mario Adorf), a one armed Mexican warlord with his own biographer in tow. It's a great cast with faces and there are references to it in Tarantino's Django Unchained (2012).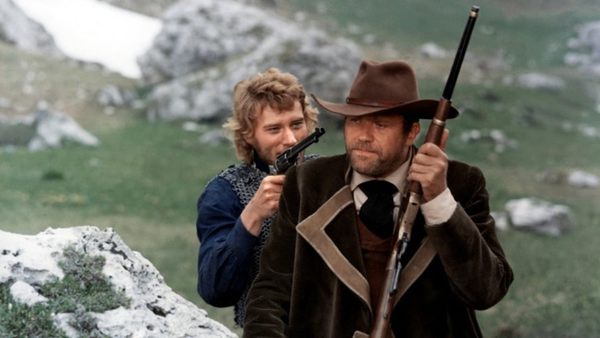 Casting a popular singer like Hallyday in a western was nothing – Ricky Nelson and Dean Martin appeared in Rio Bravo (1959), Mick Jagger played the title role in the Australian 'western' Ned Kelly (1970), Elvis Presley made Flaming Star (1960) and Charro (1969), Glenn Campbell played a Texas Ranger in True Grit (1969) and Bob Dylan and Kris Kristofferson appeared in Sam Peckinpah's Pat Garrett & Billy the Kid (1973). Ringo Starr, Willie Nelson, Johnny Cash, Julie London, Frank Sinatra, and bizarrely even Bing Crosby have all made westerns. It was a savvy move to cast Hallyday as 'The Great Hud' as it guaranteed success in France. In fact in France Hallyday remained popular his whole life until his death in 2017 releasing 80 albums and sold more than 110 million.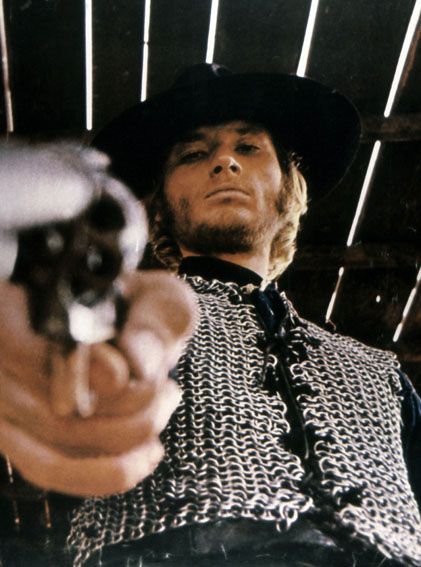 By 1969, Hallyday was a bit of an old hippy himself and yet his role in The Specialists was anti-hippy. Corucci was only too happy to have a pop at hippy culture in some sense which might seem a bit too violent and it became a hallmark of his career with his hero up against impossible odds dispatching villains in camply violent ways . The Specialist has some brilliant moments such as Hud's method of finding the cash and what he finally does with it and let's not forget the films final 20 minutes a succession of confrontations which are both bizarre and perhaps excessive.
The film's title The Specialists changed for different territories and in some became plural whilst in others such as Germany it was titled,  'Go to hell, you scoundrels'. Released in Italy on 26 November 1969 it was largely ignored but France it was huge and only Corbucci's comedies with Terence Hill & Bud Spencer ('Watch out, we're mad!' which is immense fun) were more popular in France. The Specialists had different running times with a European version running 104 minutes whilst in the UK we had a 92-minute X- certificate cut of the and re-titled, 'Drop Them or I'll Shoot' when it was released in 1973 with several scenes cut including the entire pre-title sequence, which is a confrontation during a stagecoach hold-up that introduces Hud, the hippies and other villains.
A badly dubbed and butchered 70 minute version of The Specialist on VHS had been knocking around the UK for years but now finally arrives on blu ray and is well worth a look having had a 4K restoration and a number of decent bonus features such as Alex Cox's commentary. If you're not familiar with Corbucci's films then this is as good a place to start as any.
Here's The Specialists trailer…….
THE SPECIALISTS IS OUT ON BLU RAY ON MAY 18TH 2020