So as it's the end of the year the writers at AnyGoodFilms have had their annual argument as to the best and worst 2018 films of the year and after much blood letting and breaking of furniture over each others heads we've whittled it down to the films we'd be only to happy to watch time and again and others which could be found guilty of war crimes if used as instruments of torture.  Admittedly we've based this on films that we saw this year so yes we admit that probably the most glaring omission is Black Klannsman which we didn't get an invite to see so unfortunately we were unable to cover.
So starting with the worst. Now in previous years there's nearly always been a standout awful film that, even as you're watching it, you know its going to be on your 'worst of….' list with last years 'ChiPs' winning the award outright. This year there's many contenders so we're giving them all equal positioning in sheer awfulness.
So first up is Escape Plan 2 , a sequel no one was crying out for especially if it turned out as awful as this did. It's a shame because the first film was a long awaited and frankly overdue starring vehicle for Stallone and Schwarzenegger of which the latter took the titles own advice and duly escaped from any contract obliging him to appear in this cack fest.  A nonsensical plot with Stallone at the centre wondering just why he agreed to star in it when only recently he'd been nominated for an Oscar for Creed. It's only when the film is cluttered up with oriental action stars that no one outside of China has heard of that you realise just why this Chinese financed actioner was made with Stallone praying to start work on Creed II as soon as he could escape this crap filled cobblers.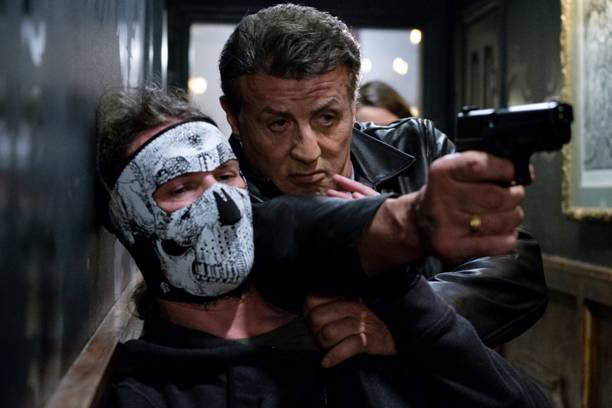 Next up is Night School. Two words sum up the awfulness of this film. Kevin Hart. The pint sized alleged comedian whose fallback for laughs is staring wide eyed at something someone's done rather than any sharp witted quips. Is it any surprise then that at Hart's London arena stand up gig the audience were asked to stand up and applaud before the show started so as to be filmed rather than risk a mass walk out as Hart hapless routines dragged on. Night School's story of a man who wants to better himself seems fitting for a comedian who was sacked from hosting Oscars 2019 for homophobic social media comments and a woefully unfunny routine about the fear of his son being gay. Night School was one of those films where the lead actor known for comedy finds himself out funnied by the female lead Tiffany Haddish.
The third turd of terrible is the remake of the 1986 comedy Overboard starring Anna Faris an excellent light comedian here weighed down with a script which inverts the original concept with instead of an obnoxious over privileged-woman is now an obnoxious over privileged playboy. In an era of stronger women roles it had to be this way but though Faris is always a delight to watch this is a laboured and woefully unfunny script that in similar vein to Escape Plan 2 has catered for the Spanish speaking market casting Eugenio Derbez as the playboy and is about as comically creative as an American frat boy locked in a room with a tea cosy without even the imagination to wear it on his head. It's that bad.
Sherlock Gnomes was another long unawaited sequel turning up seven years after the original but unlike the 54 years between Mary Poppins Returns and the first film no one was holding their breath for another dose of laboured puns. Financed by Elton John' film production company and attracting a starry list of British actors including Stephen Merchant, who does know how to bring the funny, this disappointed audiences with an insipid tale of a quest for a missing gnome. Please delay any third film by 54 years too.
Show Dogs a strong contender for worst film of the year with its story of a talking police dog investigating the kidnapping of a prized pooch at a Las Vegas dog show only except the film to be shot in a South Wales studio. Notable only for its unsuitable joke about a dog having its nuts grabbed as part of the dog show judges rituals. Literally the dog's bollocks (but not in a good way) of ropey talking dog movies.
Tad the Lost Explorer and the Secret of King Midas a cheaply animated Raiders of  the Lost Ark knock off serving only  to remind audiences  just how good Raiders of the Lost Ark is and to raise the question in audiences minds, 'Why did I pay to see this?'
So now to happier times and the best films or at least our favourite films of 2018 starting with Mission Impossible Fallout undoubtedly the best  blockbuster of  the summer and proving that Tom Cruise is either clinically insane to be doing these stunts himself or he knows no fear……. or both.  With all the supremely spectacular and dangerous stunts he performs in the film it's ironic that it was the simplest stunt of a jump across a rooftop that ended with him breaking his leg and shutting down production for a couple of months. Yet maybe it helped production with director Chris McQuarrie able to assess what had been shot and rejig any scenes. Whatever that time was used for the film ended up being the longest in the franchise and was so stuffed with action that he dropped two stunts from the final film. The film went on to become the biggest earner in the franchise to date and quite how they will top it is anyone's guess but rumours have Ethan Hunt going into space at some point. If nothing else we just loved the moment with Henry Cavill racking his fists ready for the rumble in the rest room.
Next up was another crowd pleaser, Bohemian Rhapsody, the biopic of pomp pop rockers Queen and Freddie Mercury. Unashamedly commercial the films crowning glory is the central performance by Rami Malek as Mercury. Utterly captivating he's at the top of his game and the antagonism between Brian May and Sacha Baron Cohen originally intended for the role now seems an irrelevance with it now seeming unimaginable that anyone else but Malek could play the role.  Throw in the band's back catalogue of classic anthemic hits and you've got an immensely enjoyable film which didn't shy aware from Mercury's sexuality either.
A bit of culture next as out next choice was Paul Schrader's First Reformed. After 20 years of wildly varying films that included Dog Eat Dog he came back with a film that took him back to his Calvinist roots with a story of a church minister battling alcoholism and consoling one of his parishioners during her marriage difficulties to a zealous environmental campaigning husband. Not for everyone but a serious film for grown ups with some challenging moments none more so than the film's ending. Schrader also takes comedian, and we use that word in the very loosest sense, Cedric the Entertainer, and gives him a dramatic role which shows he's far better than he ever was as an 'entertainer' a title which would previously had him prosecuted under the trades description act. Ethan Hawke as the troubled minister continues to add to his catalogue of great performances.
Next up is Lynne Ramsey's 'You Were Never Really Here' with Joaquin Phoenix as a PTSD afflicted war veteran turned hit man with a hammer rescuing a teenage girl from a paedophile ring it features a brutal and unflinching Phoenix in a role which is the polar opposite to his role as Christ in Mary Magdalene. Ramsey confirms her status as not just a great female director but a great director regardless of her sex with some stunning scenes from a Phoenix gaining entrance to a house and battling his way up to the top floor with his hammer all seen via CCTV to a scene where he lies with one of his dying victims holding his hand for reassurance singing a shared ditty to meet his death.
On the thriller front we looked forward to Sicario 2: Soldado. Sequel to the excellent Sicario this second film was without director Dennis Villneuve and DoP Roger Deakins and Emily Blunt. This instead focussed on Josh Brolin's covert government operative  and Benecio Del Toro's hitman out to put an end to Mexican drug cartels who have moved into people trafficking. It was the second part of an intended trilogy and included a stop-you-in-your-tracks terrorist attack on a supermarket but its plot had a government equally as willing to turn on those doing their dirty work for them as it was quick to employ them.
Our other favourite thriller of the year was the film version of the early 80's Lynda La Plante TV series Widows. Co-written and directed by Steve McQueen this female lead film had Viola Davis in a now customary great performance heading up a heist with three other women whose partners had all been killed in a botched armed robbery. Set against a back ground of a campaigning politician played by Colin Farrell, who at last is starting to take decent roles in decent films, it also featured a terrifying turn by Daniel Kaluuya as a psychotically dangerous criminal sidekick to another politician on the make. With a whole load of twists this is a compelling thriller.
But our absolute favourite film of the year was undoubtedly A Quiet Place which showed that cinema is first and foremost a visual medium in a story where a family led by real life husband and wife Emily Blunt and John Krasinski had to live a life in silence with their young children or be hunted down by murderous alien creatures who locate their prey with accutely primed hearing. Directed by Krasinski too this is a film of brilliant hold your breath set pieces that never lets up in a taut tension filled 90 minutes where the introduction of their new born baby ups the ante when silence will determine whether they live or die.
So that's our list !!!!
Maybe you agree maybe you don't but we'd love to know what you think and if there's any we've missed out…….