The death of author Stieg Larsson meant that his series of Millennium novels remained as a trilogy but from his notes for further The Girl in the Spider's Web was published. So our Goth heroine Lizbeth Salander and the investigative journalist Mikael Blomkvist now live on with Hollywood choosing not to remake the 2nd and 3rd film but opting instead for this fourth book.
Anyone new to the books may benefit from a little previous knowledge before seeing The Girl in the Spider's Web where she has a sister both of which are victims to their monstrous father's abuse until Lizbeth runs away but her sister doesn't. It's briefly covered in an early scene as the sisters are about to be further abused by their father with the film leaping forward to present day where the bisexual Lizabeth, now wealthy from hacking the accounts of a corrupt and wealthy business man, lives in comfort but still missing Mikael for who she always had repressed romantic feelings.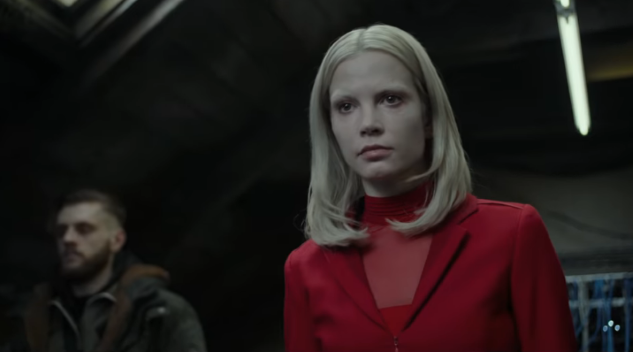 It's when Frans Balder (Stephen Merchant turning in another serious performance after Logan) a computer programmer approaches her wanting her to steal a programme that's he's developed for US intelligence giving any single person control of nuclear launch devices that the plot kicks in. It's a programme that cannot be copied but she manages to download only to find herself pursued by a lone US agent and a group of utterly ruthless cyber criminals called 'the spiders' that she finds herself as The Girl in the Spider's Web.
The film based on David Lagercrantz novel was engaging and entertainingly plotted and Larsson's original novels originally called 'Men who hate women' challenged misogyny and the fourth book had a strand of domestic violence where Lizbeth assisted the wife to gain independence from her violent husband  and is covered in an opening scene to the film. Whereas this strand was woven throughout the book and became an integral part to the plot here writer director Fede Alvarez has stripped it out of his screenplay and has also reduced Blomkvist to barely a supporting role. The Girl in the Spider's Web is wholly Salander's film and it's a shame that their pairing as a team on equal footing is done away with.
It's still an intricately plotted film with several strands and initially disparate characters eventually being drawn together but as ever it's Salander who is the draw here and Clare Foy in the title role is the newest actress to have played her. Rooney Mara who played the role in David Fincher's version was rightly nominated for an Oscar and much like Noomi Rapace in the first incarnation was darkly gothic and suitably moody with hair that looks like it was cut by a blind butcher with arthritis. Her multi pierced face and tattoos was a vision as scary as her ability to hack anything on her PC.  Foy's  version is very much watered down in terms of appearance. In contrast Sylvia Hoeks (Blade Runner 2049) as Lizbeth's sister contrasts sharply with Foy having taken the lyrics of Chris De Burgh's Lady in Red too literally dressed as she is in flame red. Sverrir Gudnason as Blomkvist is less good though mainly because he is 20 years too young for the role of a seasoned investigative journalist and his role is underwritten.
Fed Alvarez, whose film Don't Breathe was one of 2016's great thrillers, turns in another strikingly shot film with Sweden looking suitably icy and shot with a fresh eye. The Girl in the Spider's Web is another enjoyable thriller  though not as tense as the original Dragon Tattoo and his use of an actual spider motif throughout is hardly subtle. This is a far more Hollywood version of the novel and has  stripped some important elements from the book and at times becomes a little pedestrian but is never less than captivating.
Here's the trailer for The Girl with the Spider's Web ….